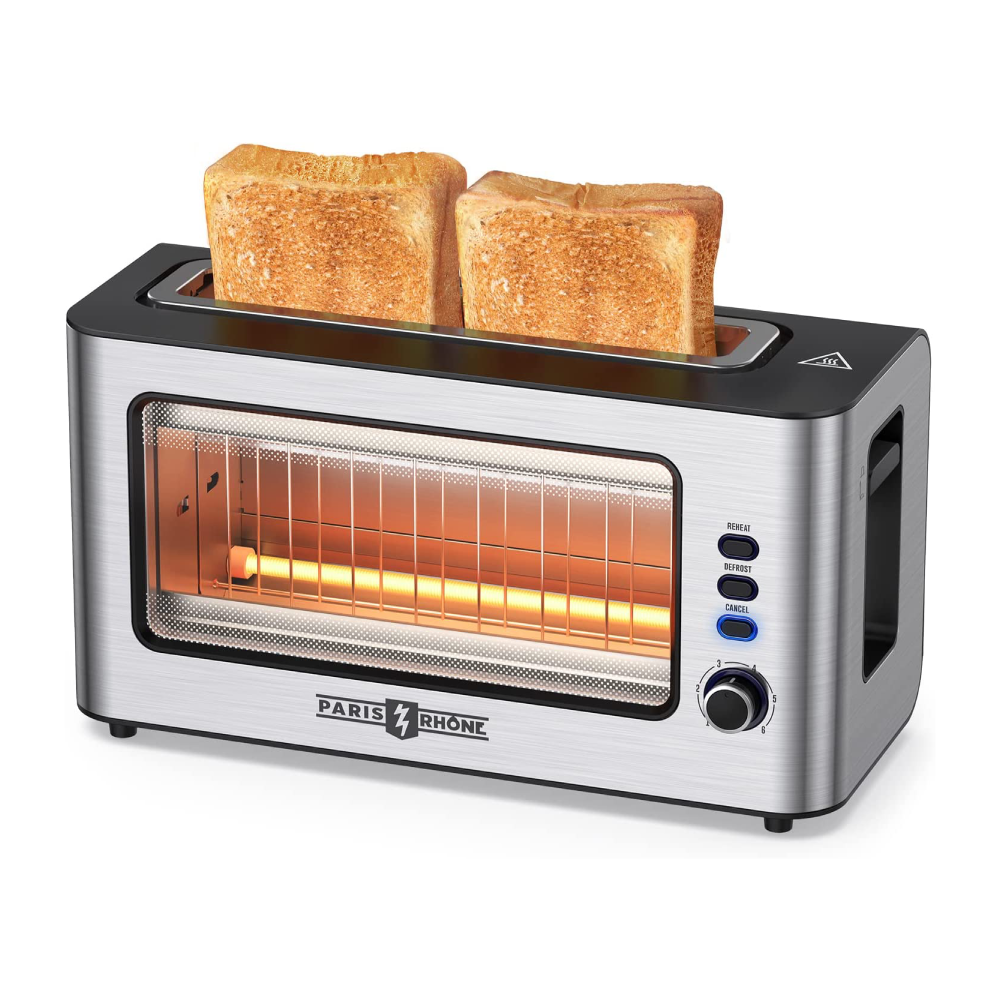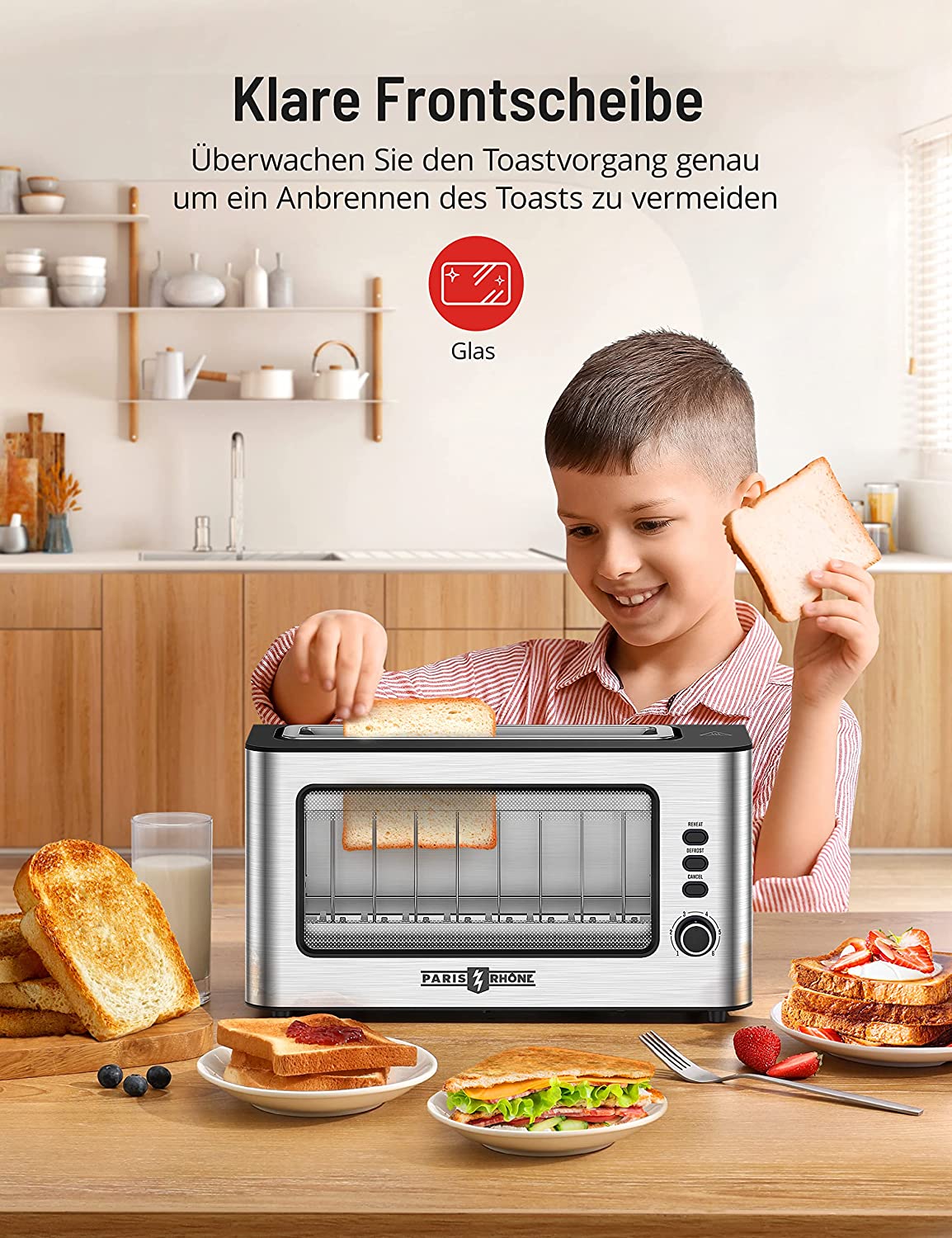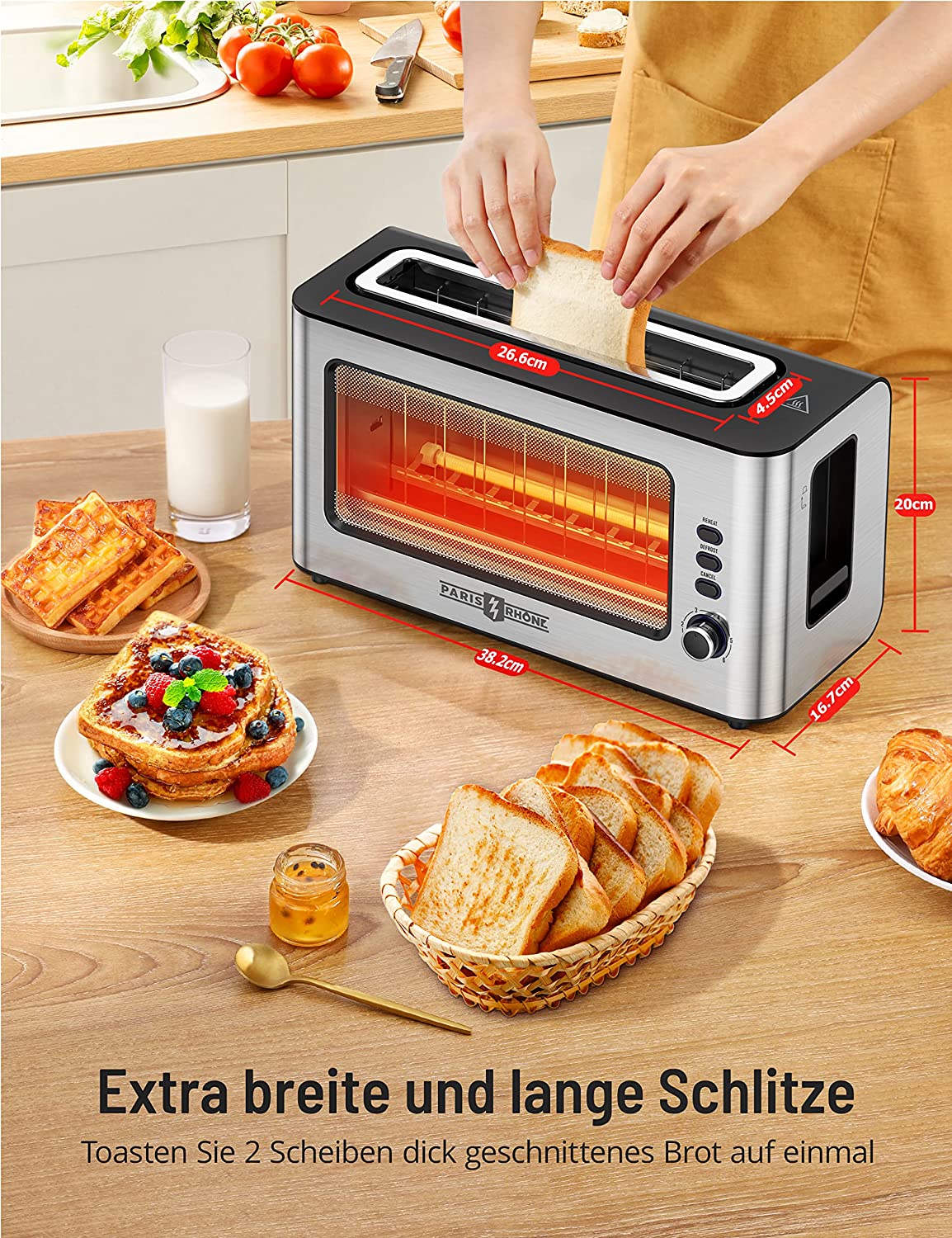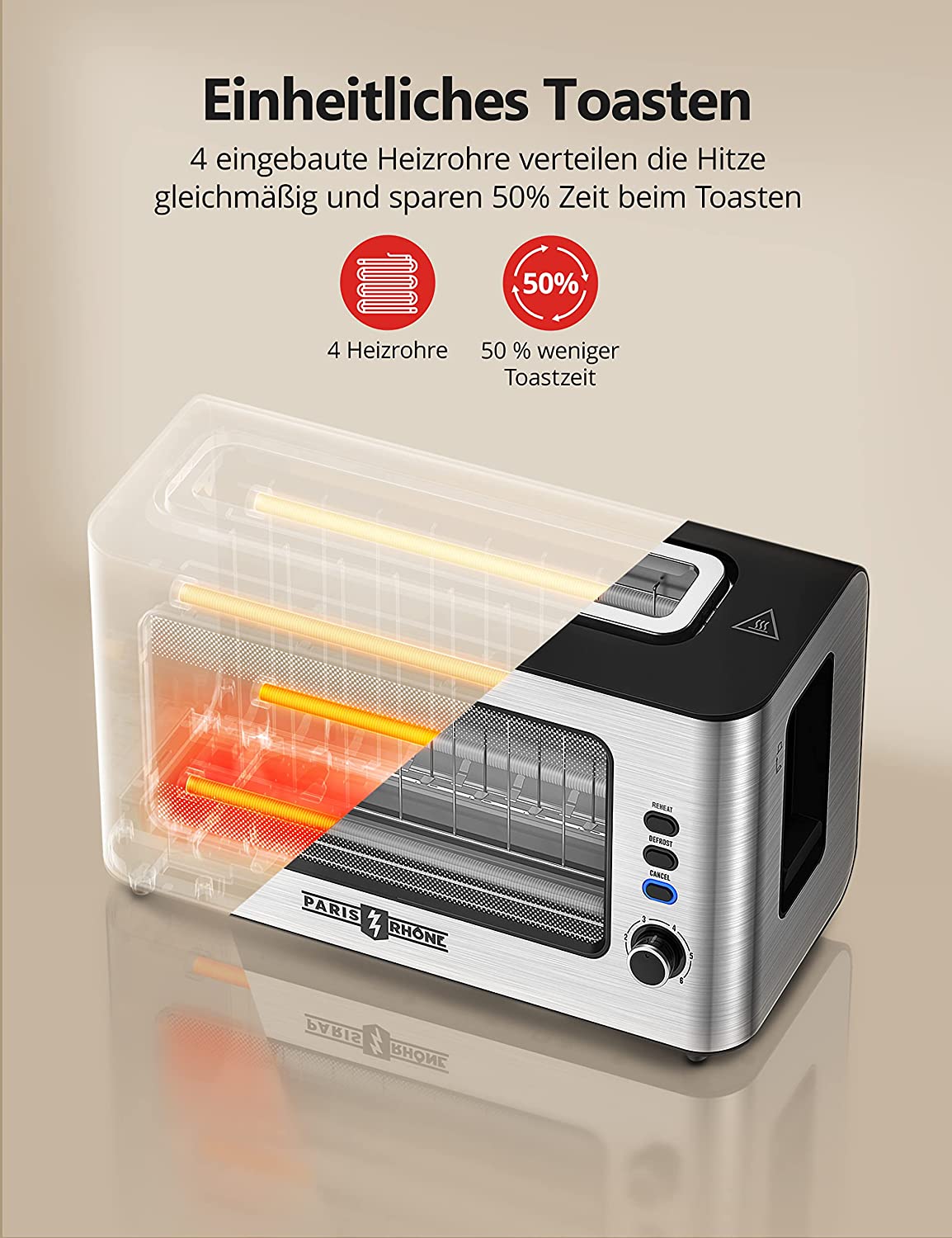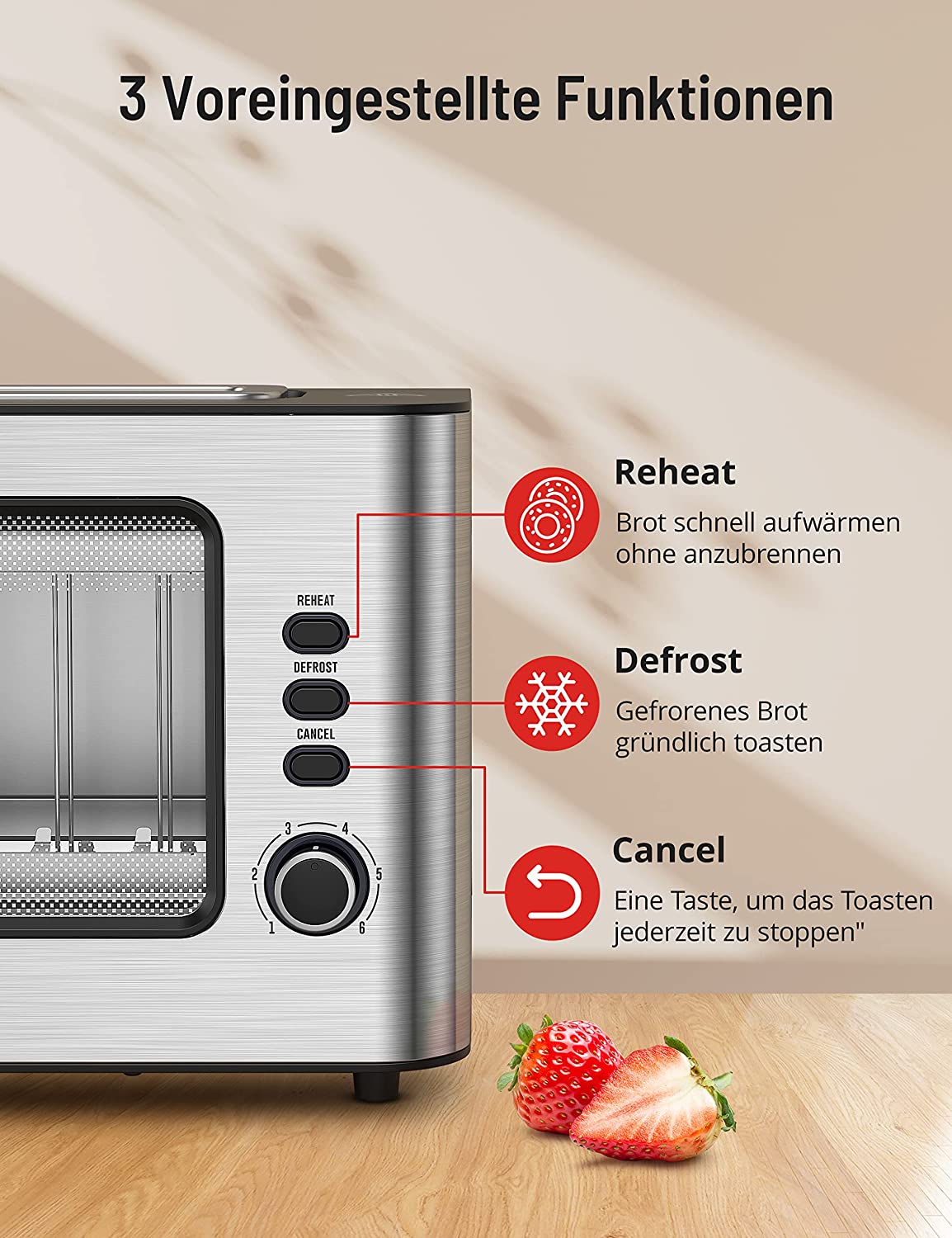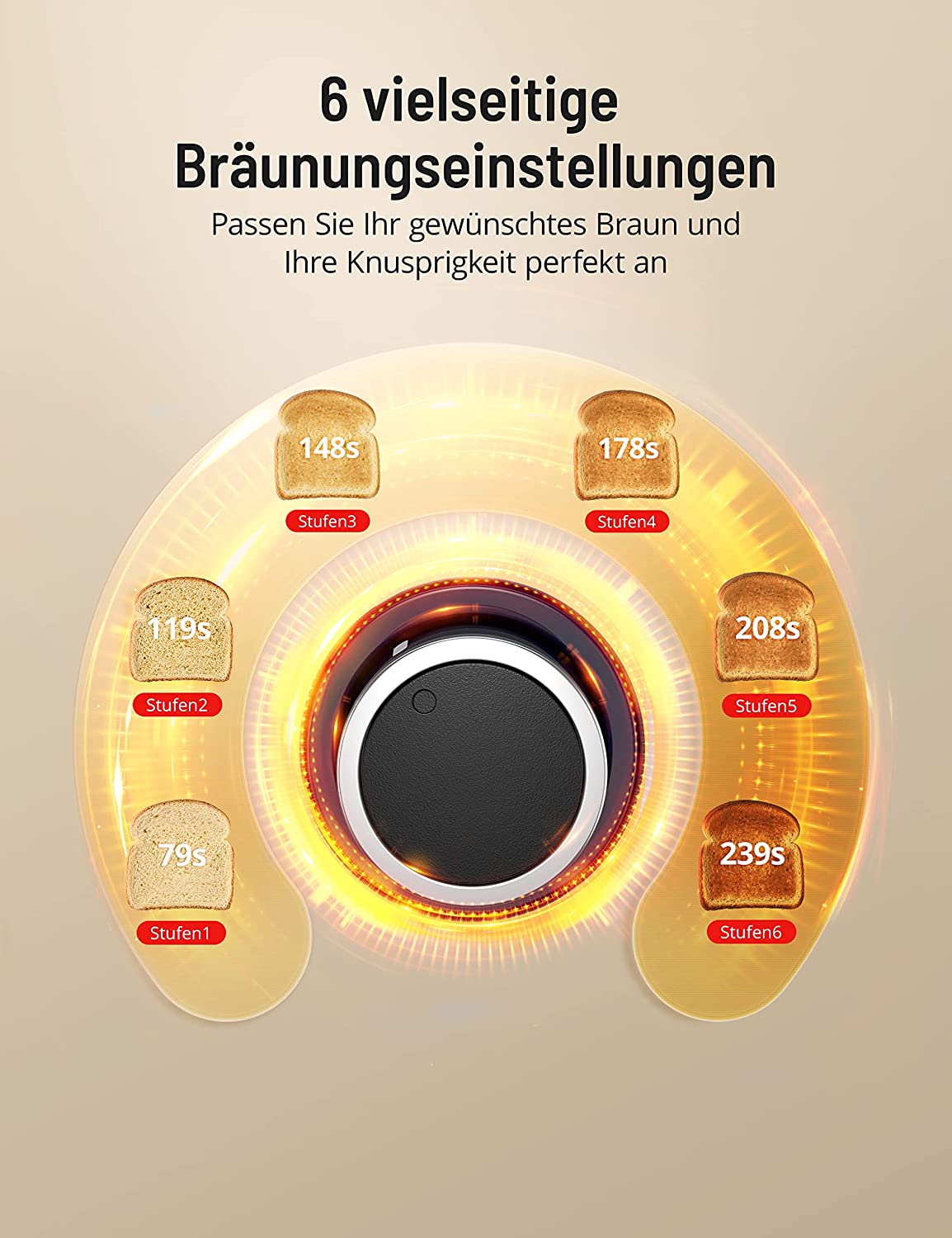 Ultra wide long slot toaster stainless steel toaster with viewing window, 6 browning levels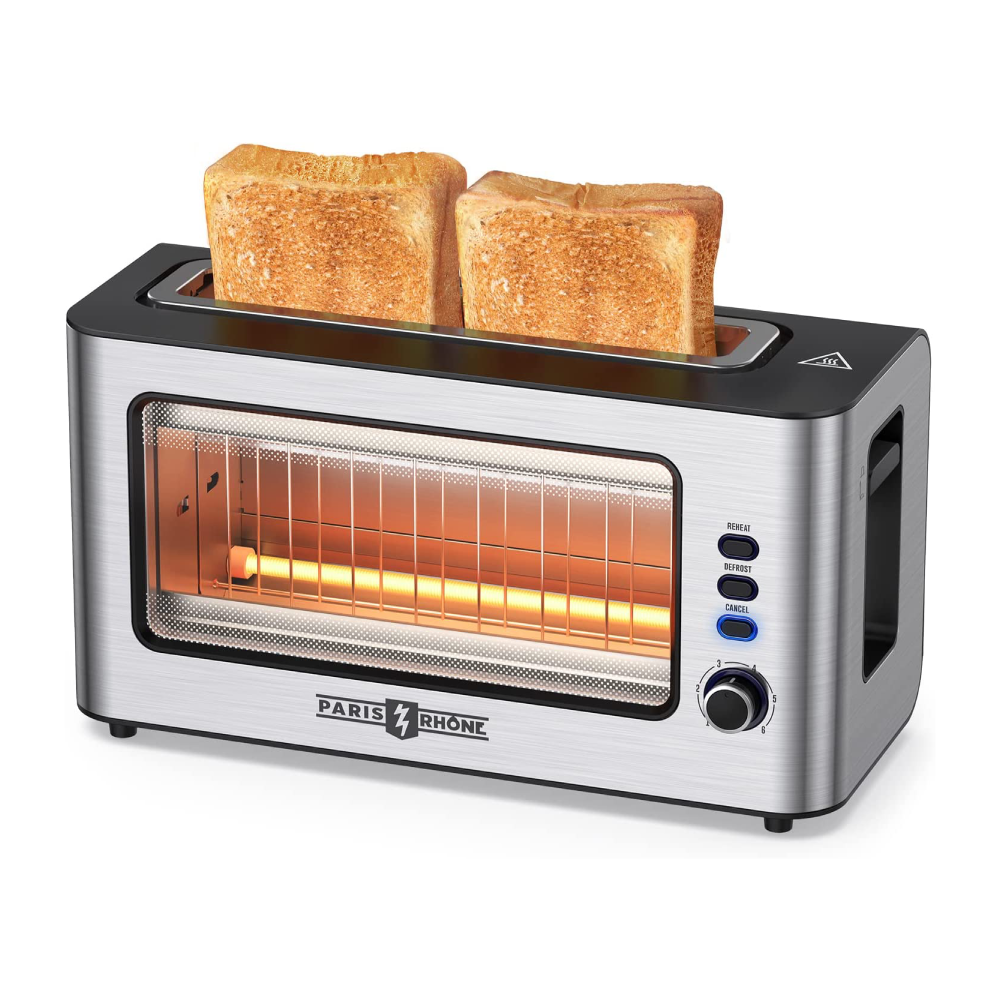 PARIS RHÔNE
Beginnen Sie den Morgen mit köstlichem Toast
Genießen Sie perfekt getoastetes Brot mit dem Paris Rhône 2-Scheiben-Toaster. Das große Frontfenster macht den Toastvorgang sichtbar, so gibt es beim Toasten kein Rätselraten mehr. Ausgestattet mit 3 intelligenten Funktionen, 6 Bräunungsstufen und extra breiten und langen Schlitzen ist dieser Toaster ideal zum Toasten verschiedener Brotsorten, darunter einfaches Weißbrot, gefrorene Waffeln, Sauerteig und andere handwerklich hergestellte Brote.
Featured
Einfaches Sichtfenster
Gleichmäßiges und schnelles Toasten
3 praktische Funktionen
6 präzise Bräunungsstufen
Abnehmbare Krümelschublade
Automatische Abschaltung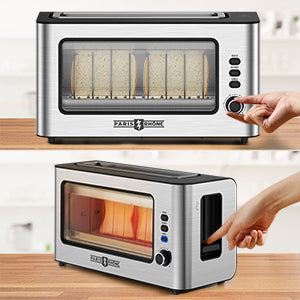 Intuitive Bedienung
Legen Sie einfach zwei Brotscheiben in die Schlitze, drehen Sie den Knopf, um eine Bräunungsstufe auszuwählen, und wählen Sie die Funktion für Ihren bevorzugten Geschmack.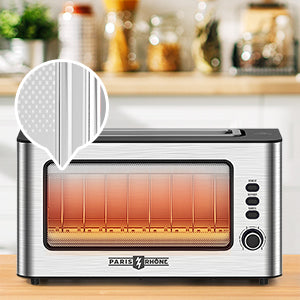 Zwei Glasscheiben
Dieser 2-Scheiben-Toaster verfügt über zwei Glasscheiben und ermöglicht es Ihnen, den Toastvorgang klar zu sehen und Sie vor Verbrühungen zu schützen.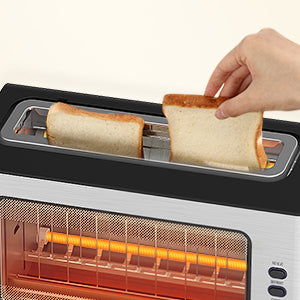 4.5CM Extra breite und lange Schlitze
Dieser vielseitige Toaster mit extra breiten und langen Schlitzen ist in der Lage, Brot und Waffeln für Ihren täglichen Bedarf aufzutauen und zu toasten.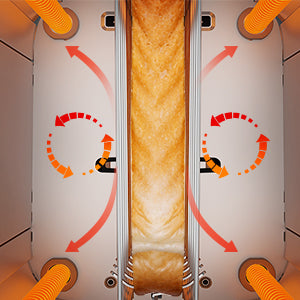 Schnell zum Toast
Dieser 1000-W-Toaster, der sich durch effizientes und gleichmäßiges Toasten auszeichnet, ermöglicht Ihnen die Zubereitung eines abwechslungsreichen und köstlichen Frühstücks mit 50 % weniger Wartezeit.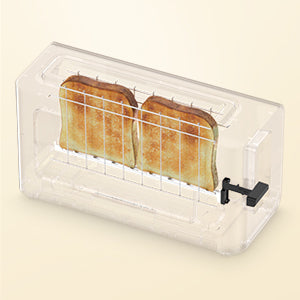 Einheitliches Toasten
Durch gleichmäßiges Erhitzen stehen 6 Backgrade zur Auswahl. Sie können verschiedene Weichheiten nach Ihren eigenen Vorlieben wählen und schmecken sehr gut.
Bequeme Aufbewahrung
Wickeln Sie das Netzkabel einfach auf und verstauen Sie es unten im Toaster, um Ihre Küchentheke ordentlich und sauber zu halten.
This product has no reviews yet.
FAQ
Use this text to share information about your product or shipping policies.
does the removable glass panel give access to the inside for cleaning or is it an interior panel only?

Our removable glass panel [when removed] only gives me access to clean the panel itself. We can't effectively reach inside the toaster to clean. Our toaster also has an exterior glass panel that blocks access to and protects the interior cooking parts from being inadvertently tampered with. But, we can now see the toast, bagels, etc. while toasting to view how well done they are!
Do all four heating tubes glow with the same intensity? I have two bright tubes on the bottom, the top two tubes glow dim. Is this normal operation?

This is a normal operation. In order to prevent scorching, the two tubes above will not be very hot. Since the heat will go up when heating. In addition, it also prevents burns. If the top two are bright as the bottom, the top will be very hot.

Just unpacked toaster and followed instructions, cannot find anything that must be removed before starting. It will not start. What did I miss?

This Toaster comes with a 12 months warranty from the date of its original purchase. If you have ever experienced issues with it, please contact us for support. We will take care of you in 24 hours.

Where does the removal panel go it fell out of toaster?

If you are talking about the long crumb tray underneath, it slides onto narrow long metal strips on each side under the toaster, starting from the left short side as you are facing the toaster with the control buttons on the right long side. It's a bit like sliding a drawer into a dresser. Ours slides in and out easily. You might need to turn the toaster on it's side the first time to see the strips and slide the tray in. Just unplug the toaster first. Hope this helps.
How hard it is to clean it from crumbs?

Very easy, not a hard thing at all. There is a crumb tray at the bottom of the product, just pull out the crumb tray and you can clean it all.

Why are my bagels burned on the top side? I adjusted the heat level as well as initiated the bagel category...they still burned! Seems the dial may be

I have learned with bagels that it is best to put them in long enough to just start browning (look through the window), then push the button to raise the rack, turn the bagels around so the front is now the back and put them in with the top now at the bottom of the rack, and finish toasting. It's just the nature of the crust and thickness of bagels, I think.
Does it beep when the sound is done or just pop up. If it beeps what does it sound like?

Aloha! It just pop up. Thank you.
What is the maximum size bread?

This toaster could contain a 4*4*0.4 inches bread.If you have any further questions, please feel free to contact us so we can help you in a timely manner.
Our customer support is available Monday to Friday: 8am-8:30pm.
Average answer time: 24h