PARIS RHÔNE
Maßgeschneidert für Kühle im ganzen Raum
Mit einer maximalen Luftstromweite von 10,5 m zirkuliert dieser kompakte Umluftventilator Paris Rhône effizient kühle Luft durch den gesamten Raum bis zu 15 m². Dank der multidirektionalen Oszillation bietet dieser kompakte Lüfter mit 3 Geschwindigkeiten schnell eine breite Abdeckung der Kühlung. Passen Sie Ihre Brise über das praktische Touchpanel oder die mitgelieferte Fernbedienung an.
Featured
Leistungsstarke Luftzirkulation
3 Windgeschwindigkeiten
70° Oszillation
90°Neigungswinkel
8-Stunden-Auto-Off-Timer
Smart-Touch-Steuerung
Einfache Fernbedienung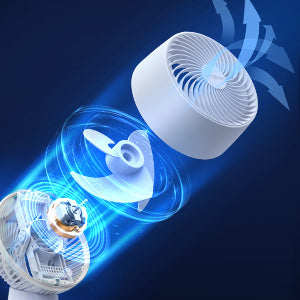 Leistungsstarke Zirkulation
Mit 20.5-cm-Lüfterflügeln mit einem großen Neigungswinkel von 60°, einem langen Luftkanal und einem Spiralgitter verteilt dieser Umluftventilator einen spiralförmigen, schnellen und konstanten Luftstrom für eine effiziente Zirkulation.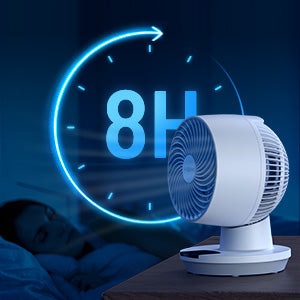 8-Stunden-Auto-Off-Timer
Stellen Sie einfach einen Timer von 1 Stunde bis 8 Stunden in 1-Stunden-Schritten ein und dieser Umluftventilator schaltet sich automatisch aus, um Energie zu sparen.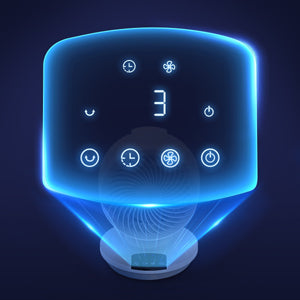 Intelligente Touch-Steuerung
Sofortiger Zugriff auf alle Funktionen durch einfaches Antippen.
This product has no reviews yet.
FAQ
Use this text to share information about your product or shipping policies.
Can you turn off the timer and let it run all night?

Yes, you can run it all night. You have to turn the timer on. It is not automatic.
Can this plug be used in the usa (usa wall socket)?

It is suitable for the voltage of the US.
What is the noise level or dB rating?

Unscientific reading. DB Meter app on iPhone 12 - Fan on the Floor and I sit 3-4 feet away.Setting 1 - 45db / Setting 2-50db / Setting 3-55dbBut the db meter was fluctuating as other noise would be louder etc

What is the size of this small fan and is the wind enough?

11x8x8 inch; This small fan has three wind speed gears, and its motor is designed with German technology, which can meet all the needs of children, adults, and the elderly.

Will it run without oscillating

Yes, you can use the remote control to control the product to oscillate or not to oscillate.
Can this small fan swing automatically? What is the horizontal swing angle?

The horizontal oscillation angle of this air circulation fan is 70°, it can oscillate automatically, and it can also be controlled by remote control

The cord is about 68 inches
Our customer support is available Monday to Friday: 8am-8:30pm.
Average answer time: 24h