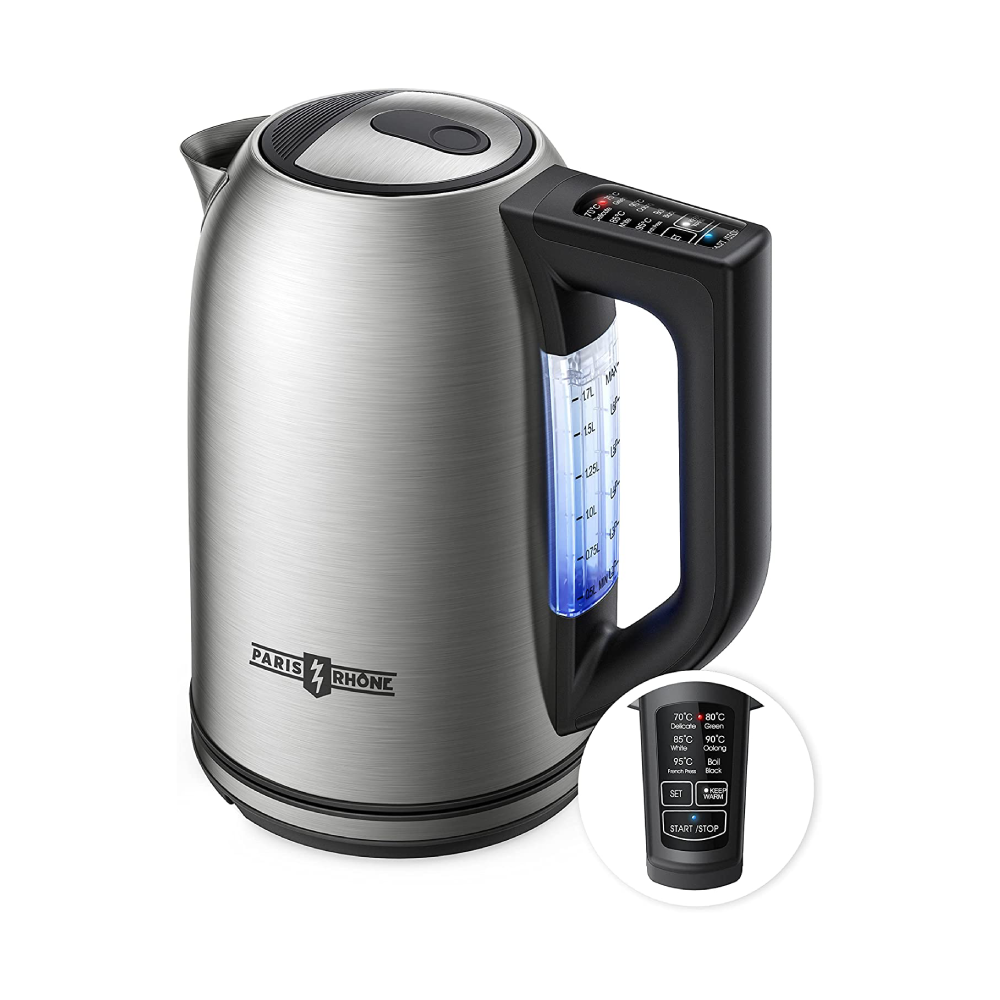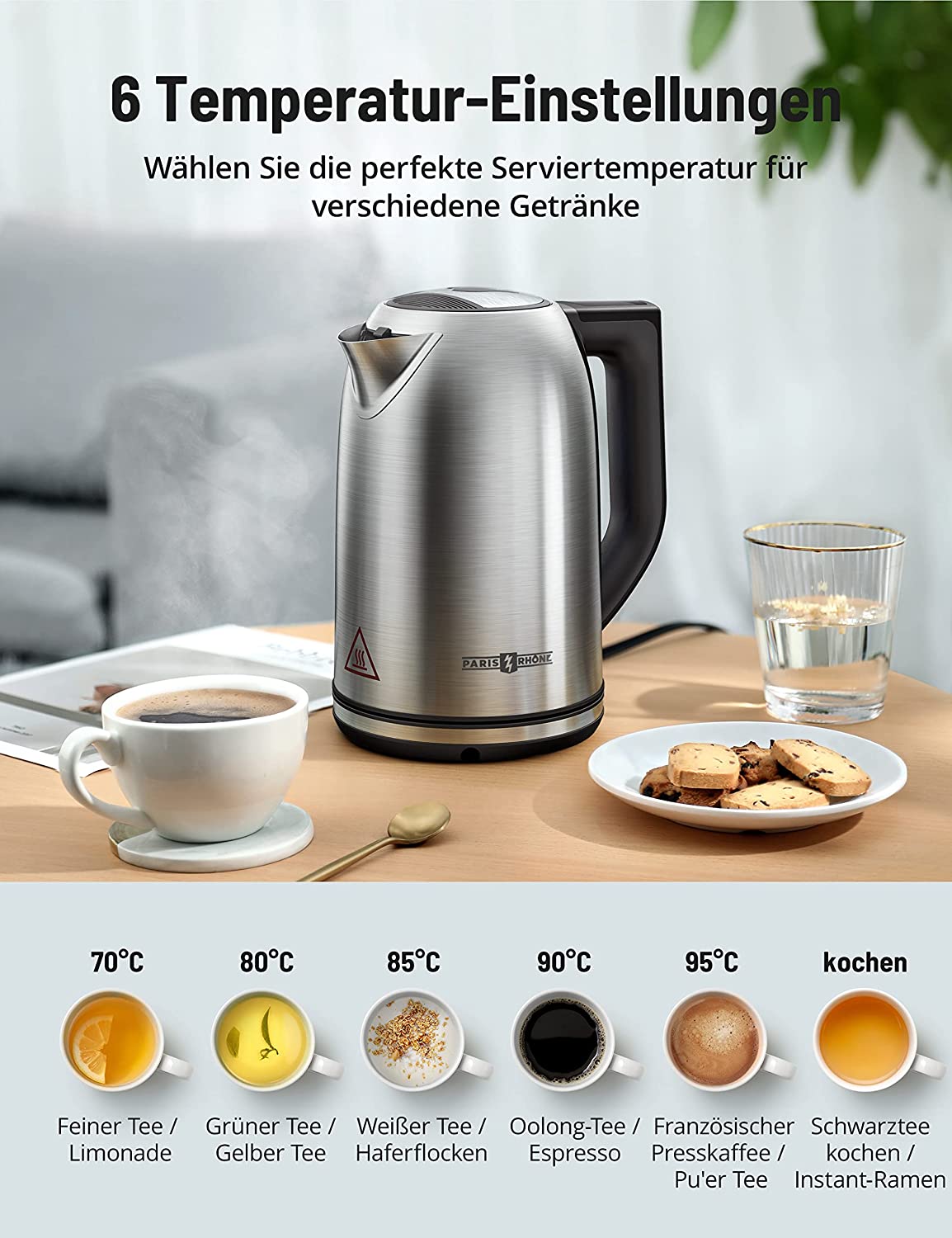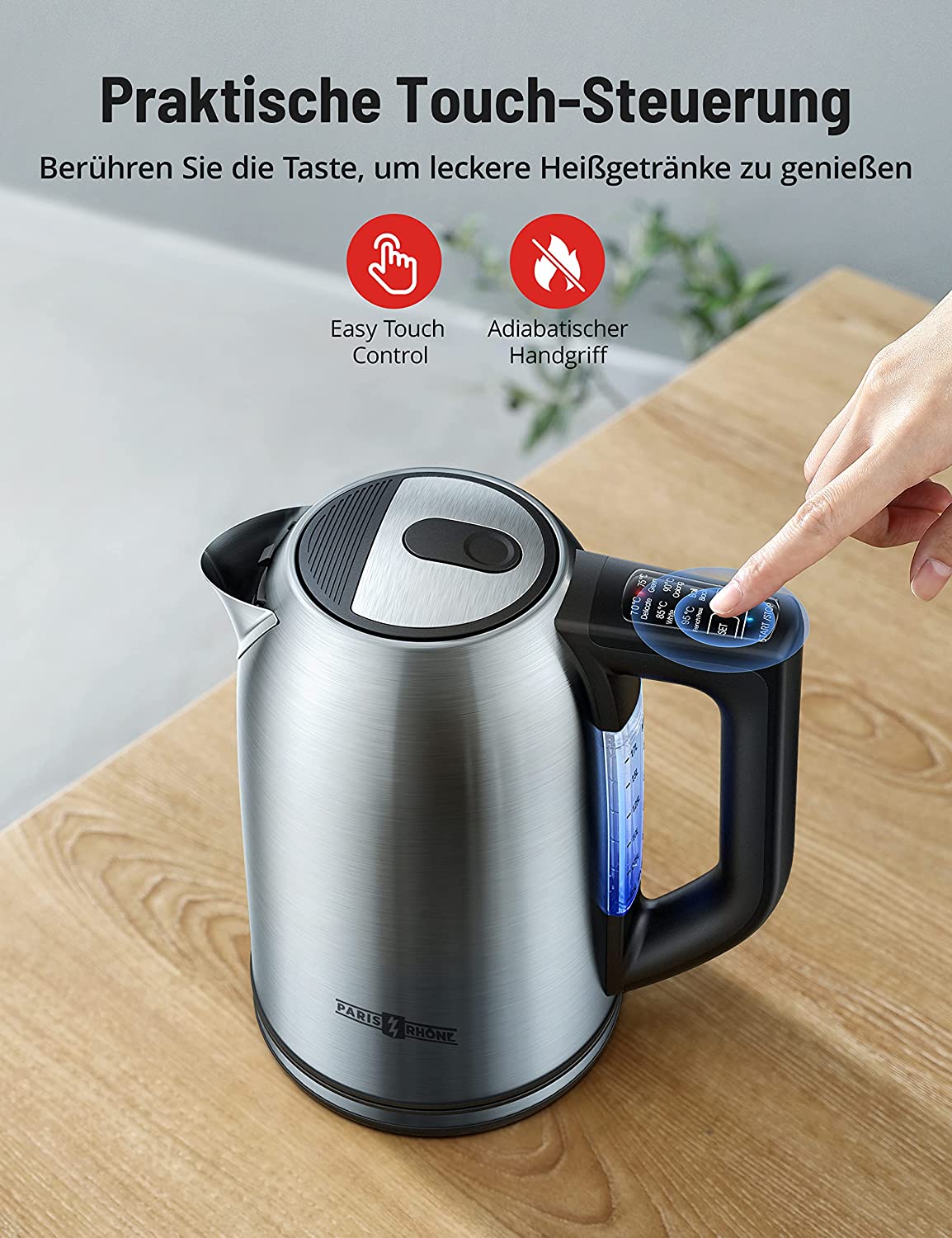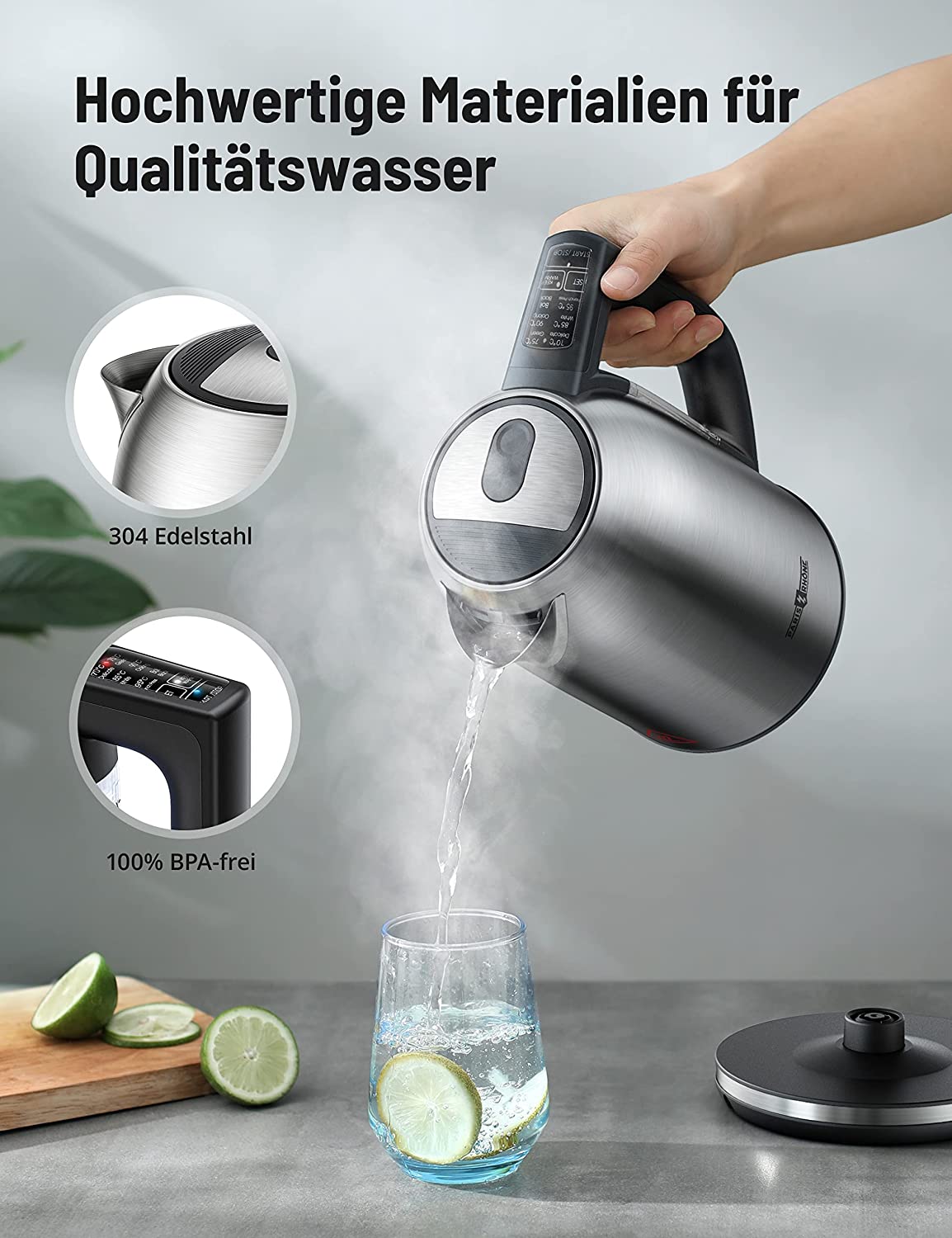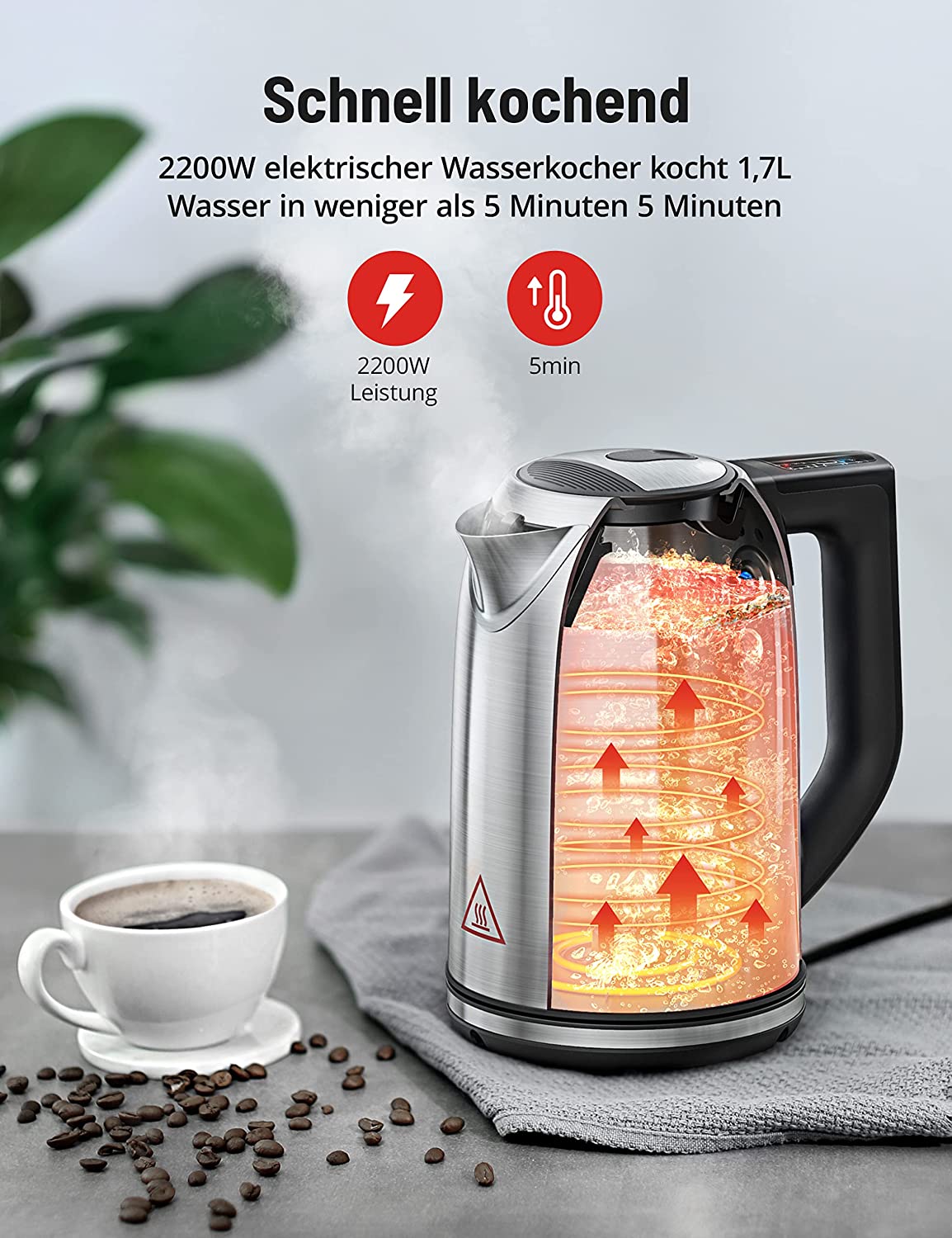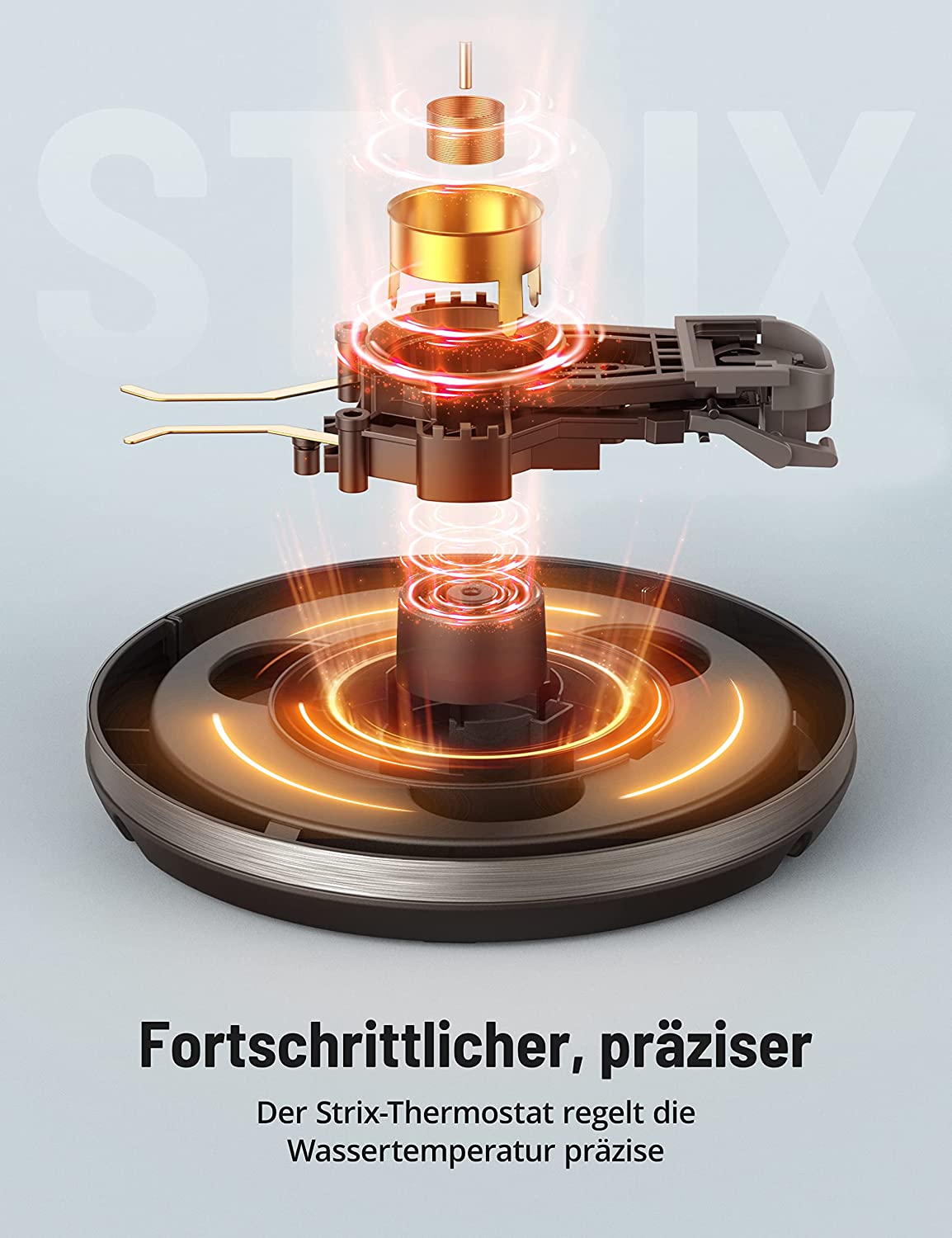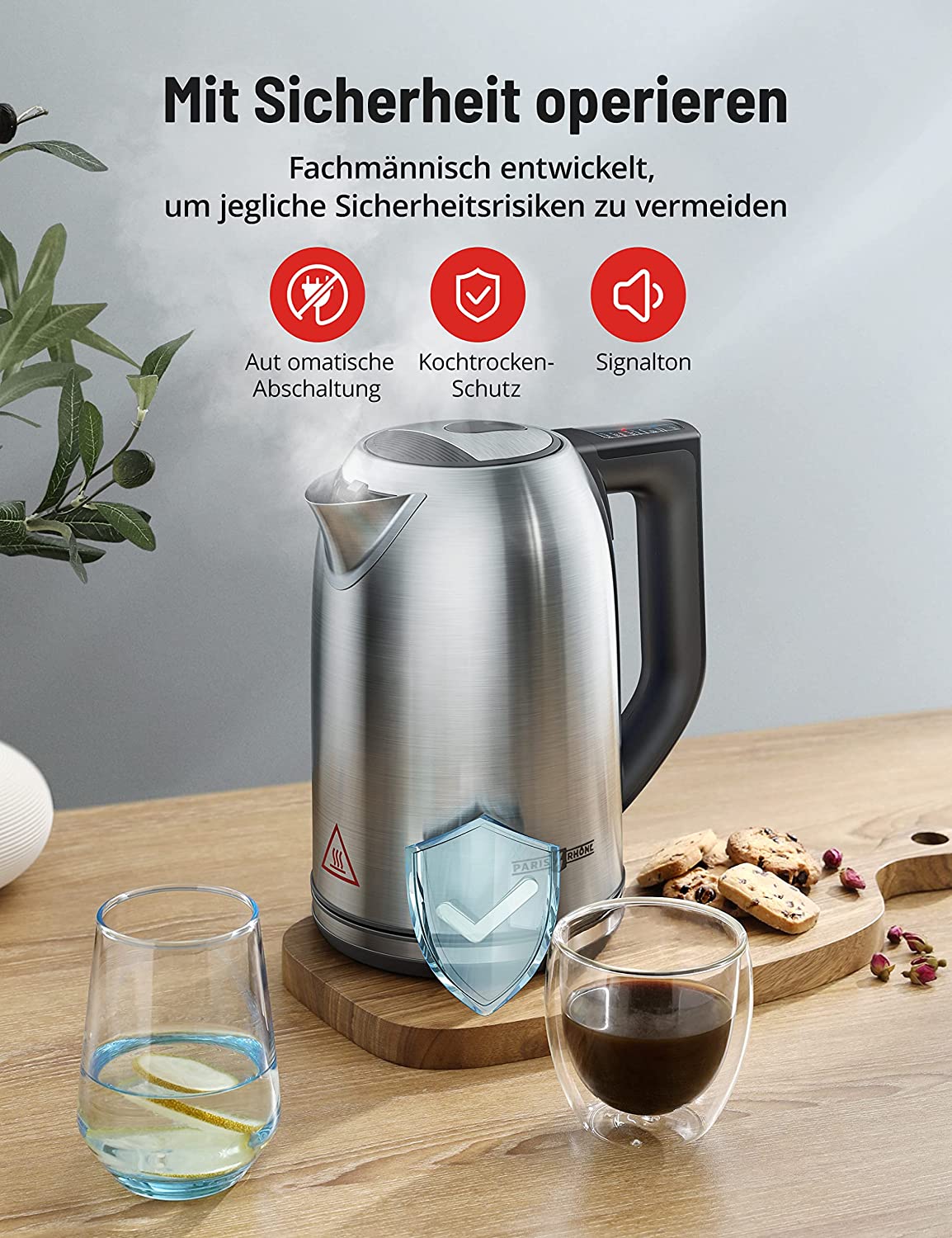 Kettle stainless steel with temperature setting, 1.7L Electric Kettle 2200W Electric Kettle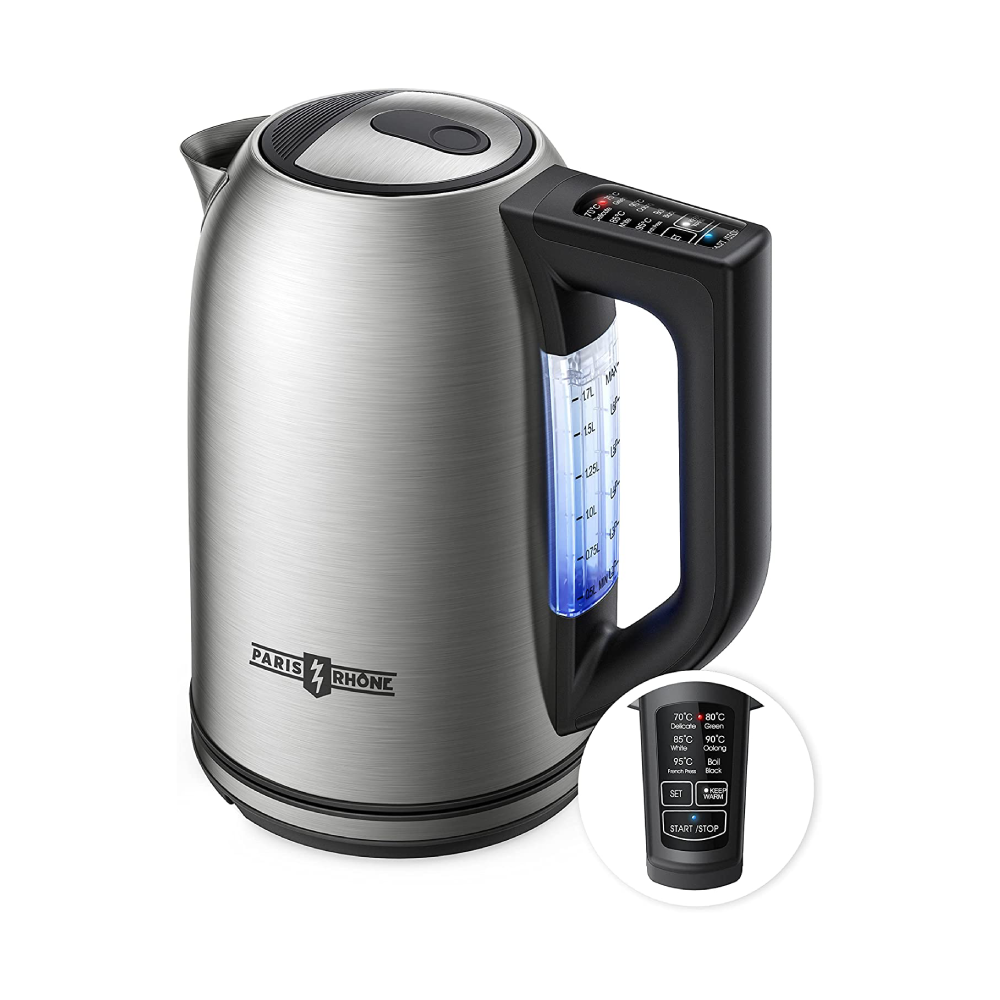 PARIS RHÔNE
Genießen Sie heiße Getränke sofort
Das lange Warten auf die perfekte Tasse gehört der Vergangenheit an: Der Paris Rhône 1500 W-Edelstahl-Wasserkocher kocht schnell 1,7 l Wasser in weniger als 5 Minuten, sodass Sie im Handumdrehen herrlichen Tee, Kaffee, heißen Kakao und mehr servieren können. Dank der automatischen Abschaltung und des Trockengehschutzes kann dieser Wasserkocher immer wieder sicher kochen. Der elektrische Wasserkocher Paris Rhône wird mit einem Strix-Thermostat geliefert und bietet die ideale Wassertemperatur für verschiedene Heißgetränke, sodass Ihre ganze Familie oder Gäste zufrieden sind.
Featured
1500 W Schnellkochen
1,7 l großes Fassungsvermögen
Edelstahl und BPA-frei
6 Temperatureinstellungen
Präzises Strix-Thermostat
Einfache Touch-Steuerung
Automatische Abschaltung und Trockengehschutz
Abnehmbarer Anti-Kalk-Filter
Leicht ablesbare Wasseranzeige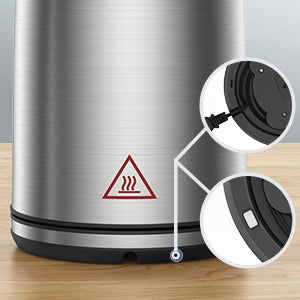 Rotierende Basis
Darunter befindet sich ein zusätzlicher Kabelstauraum, in dem überschüssige Kabel verstaut werden können; 3 runde, rutschfeste Körner sorgen für einen sicheren Stand des Wasserkochers auf der Küchenarbeitsplatte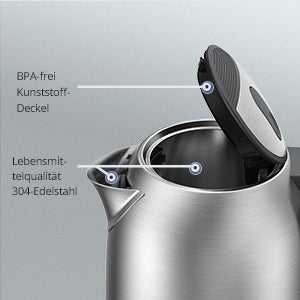 Innenwand aus Edelstahl
Das Innere des Wasserkochers besteht aus hochwertigem 304er-Edelstahl, der nicht zur Kalkbildung neigt, so dass Ihr Getränk kalkfrei bleibt und Sie sich die Mühe des Entkalkens sparen können.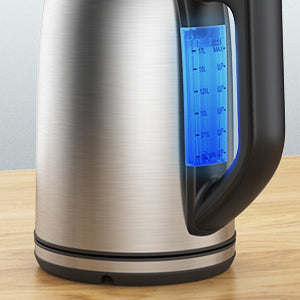 Bequemes Sichtfenster
Der elektrische Wasserkocher mit beleuchteter Wasserstandsanzeige leuchtet auf, wenn der Wasserkocher kocht, und an der leicht ablesbaren Wasserstandsanzeige können Sie die Wassermenge leicht erkennen. Zu Ihrer Sicherheit sollten Sie die MAX-Linie nicht überschreiten.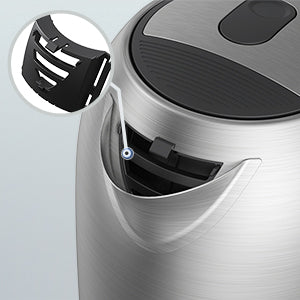 Detachable Filter
Dieser abnehmbare und leicht zu reinigende Filter befindet sich am unteren Ende des Auslaufs und hilft, Verunreinigungen aus dem Wasser zu halten.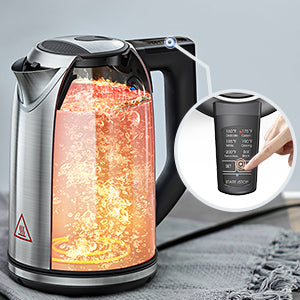 30min Warmhaltefunktion
Die praktische Warmhaltefunktion hält die Wassertemperatur 30 Minuten lang aufrecht, so dass Sie immer heißes Wasser zur Verfügung haben, wenn Sie Ihre Tasse ausgießen oder nachfüllen möchten, ohne warten zu müssen, um das Wasser wieder aufzuwärmen.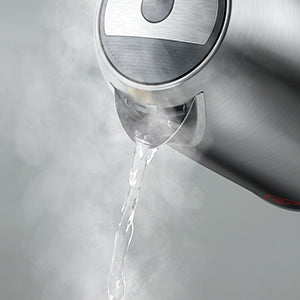 Easy-to-Pour Spout
Haben Sie genug von lästigen Spritzern und Kleckern, die andere Wasserkocher auf Ihrem Küchentisch hinterlassen? Dieser ergonomische Paris Rhône-Wasserkocher mit V-förmiger Tülle sorgt für ein spritzfreies Ausgießen, das gleichmäßig und präzise ist und keine Sauerei verursacht.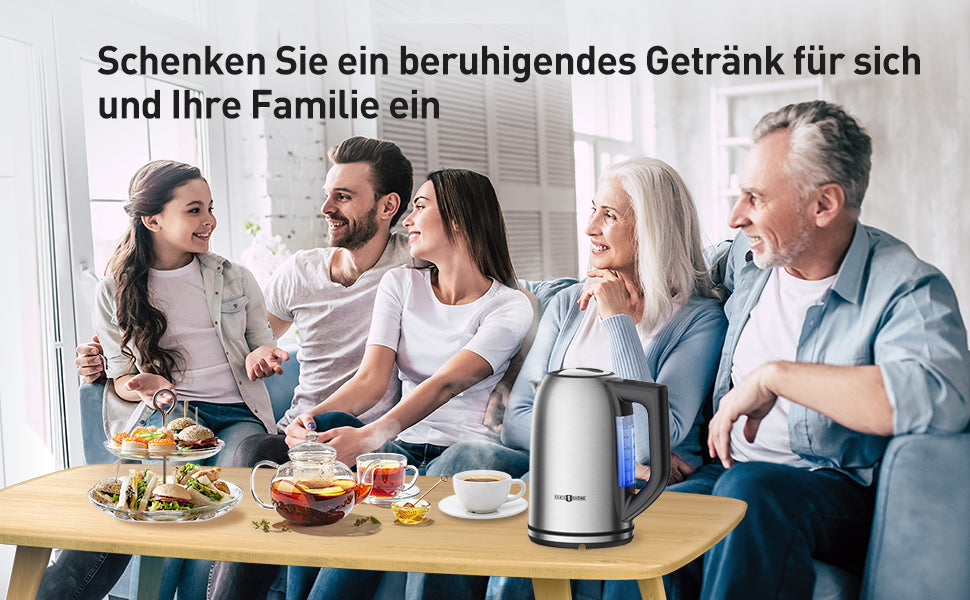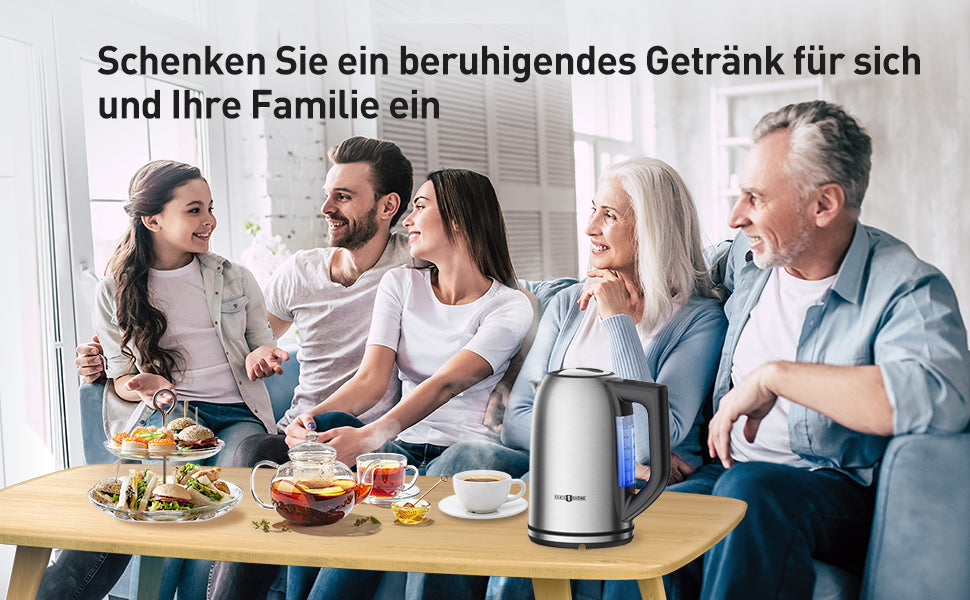 This product has no reviews yet.
FAQ
Use this text to share information about your product or shipping policies.
Is there any plastic at all, in contact with the tea water?

Crafted from premium food-grade 304 stainless steel, the Paris Rhône electric kettle is much more durable and robust; BPA-free materials ensure the water is boiled to a high standard and with no objectionable odor.
Where is the detachable filter?

This electric Tea Kettle comes with a detachable filter and you can find it at the base of the spout. For more details, please find the relevant picture from produst description.
How does the temperature control of this hot water kettle electric work?

The water boiler kettle electric has 6 different temperature settings.The default temperature setting is Boil / 212°F.Cycle through the temperature settings with each press of the Set button. The corresponding temperature indicator will light up.Once the maximum or minimum temperature setting is reached, keep pressing the Set Button will not change the setting.It can preserve the temperature of the boiled water for 30 minutes until it automatically shuts off and enters standby mode.
Do the temps of this kettle go down to 120? Or can you not manually adjust the presets?

The default temperature setting is Boil / 212°F. Press the Set Button to select from 6 different temperature settings. Press the Keep Warm Button to preserve the temperature of the boiled water. Once the keep warm function is activated, the heat will be preserved for 30 minutes until it automatically shuts off and enters standby mode.This water boiler kettle electric comes with a 12-months warranty from the date of its original purchase. If you have ever experienced issues with your kettle, please contact us for support. We will take care of you in 24 hours.
Can this kettle be use to heat cow's milk?

We do not recommend you use this kettle to heat the milk as it will make the bottom kettle mushy.
Is the kettle cool touch on the outside

The outside of the kettle was made of 304 Stainless Steel, which is a little cool.
Is this electric Tea Kettle noisy?

This electric Tea Kettle is not noisy and we believe that it will reach your expectations.
By PARIS RHÔNE OfficialSELLER on May 7, 2022
Does the outside of the kettle get hot? Is it insulated?

It does get hot.
By Lori on July 12, 2022
Our customer support is available Monday to Friday: 8am-8:30pm.
Average answer time: 24h