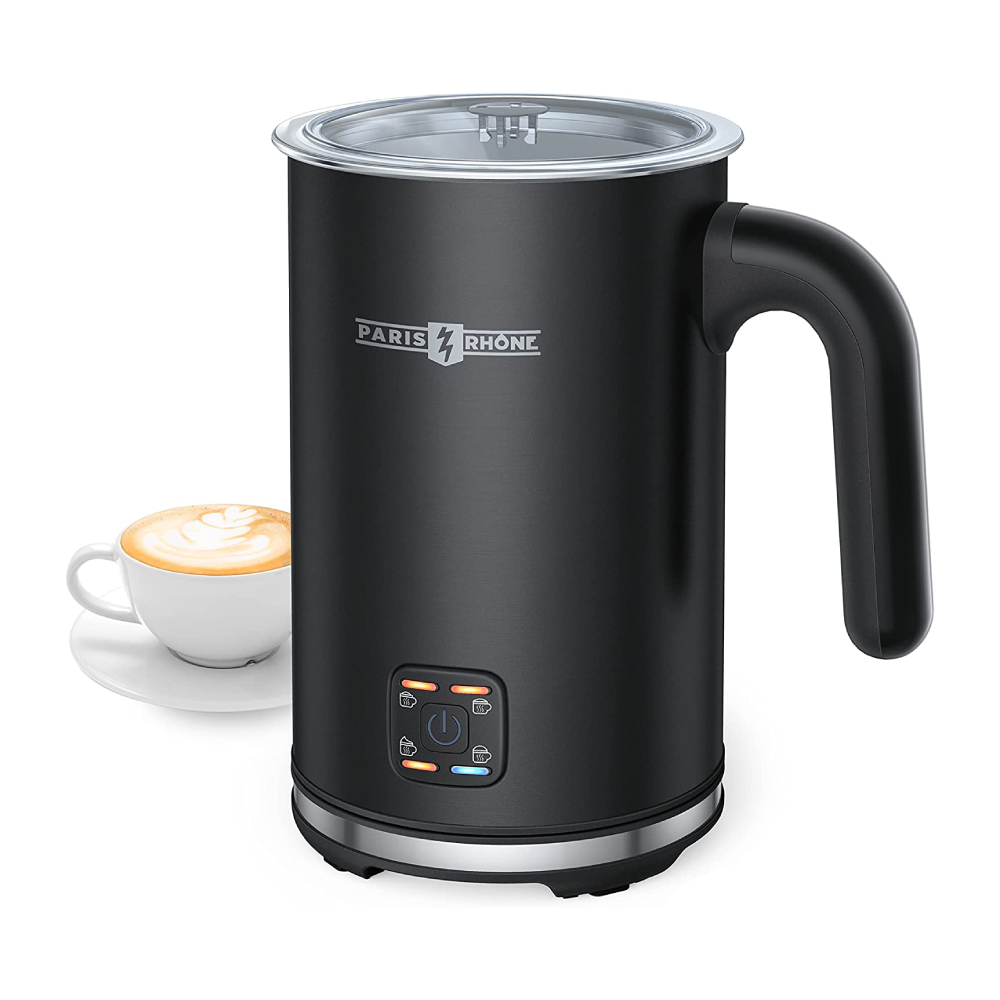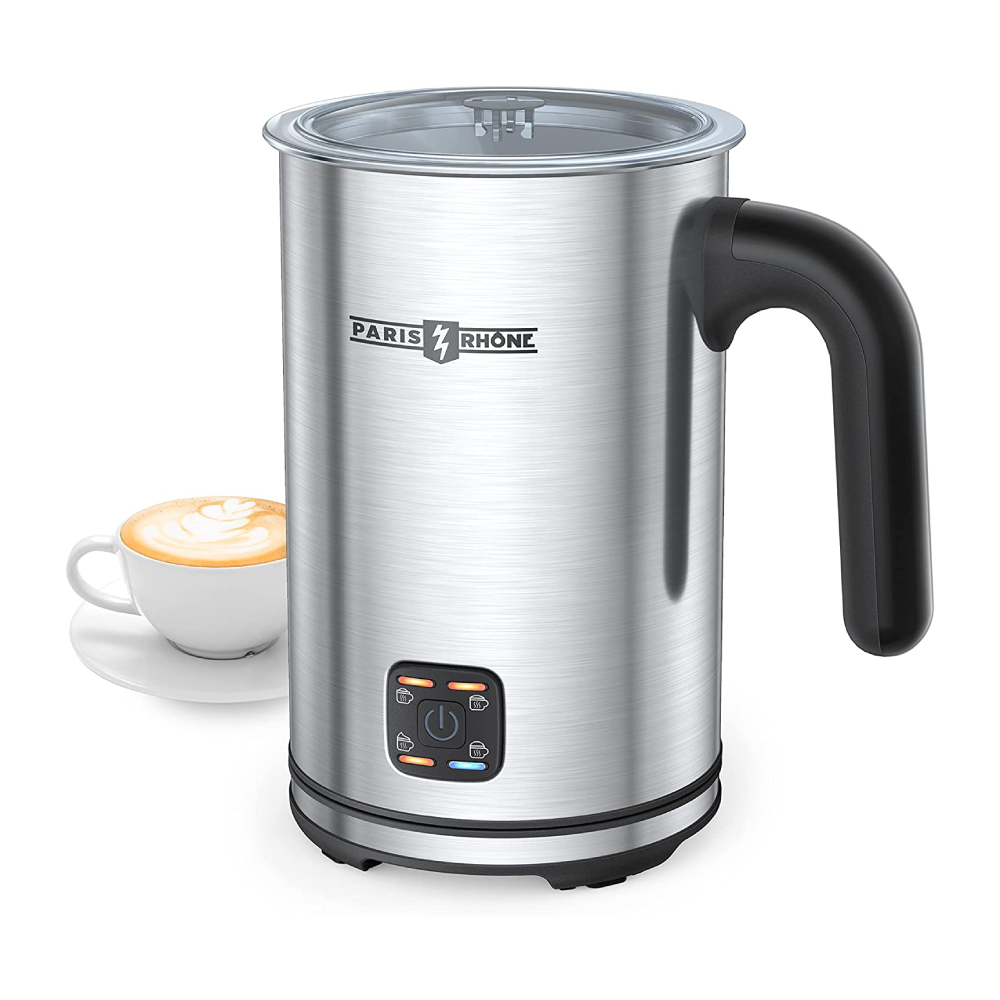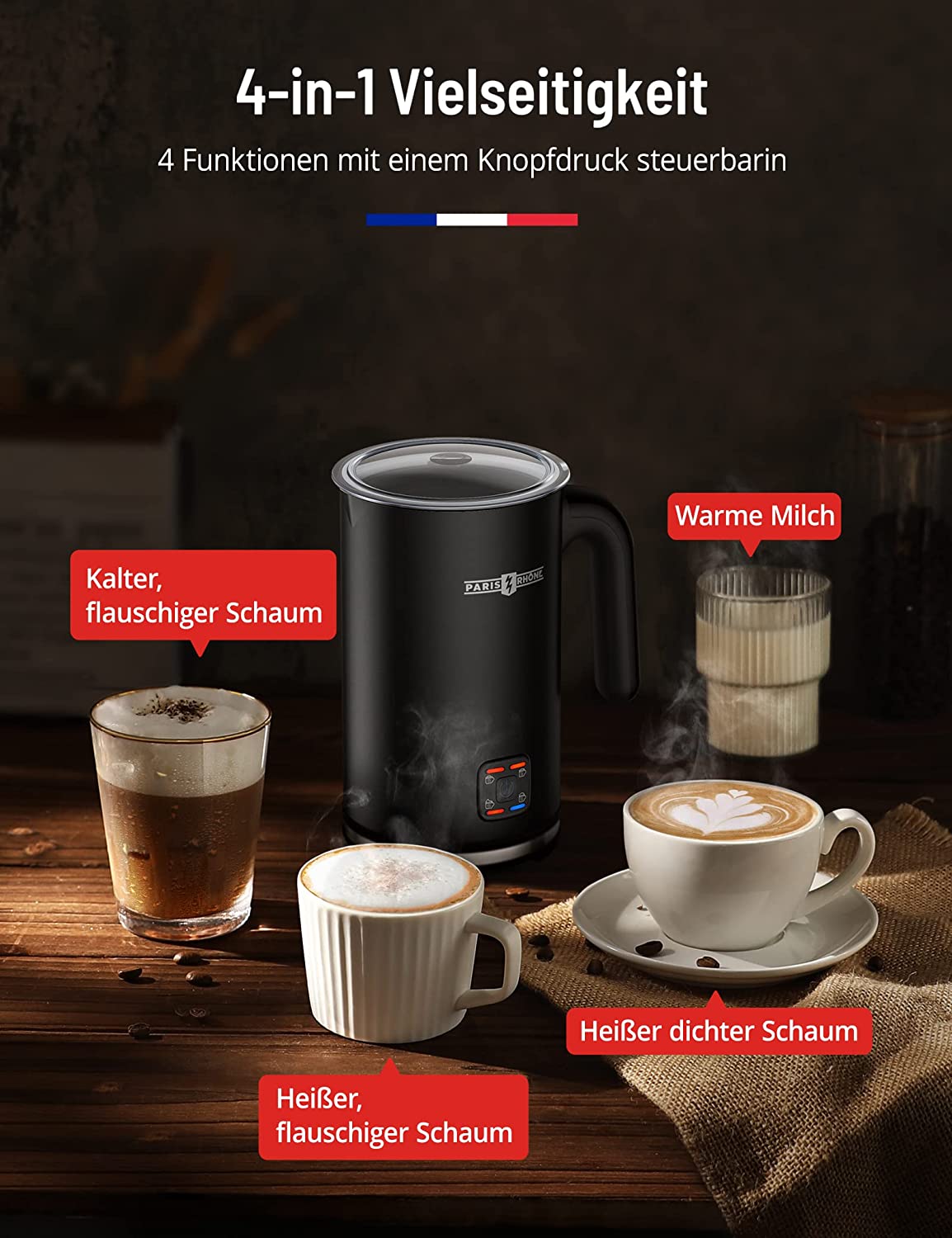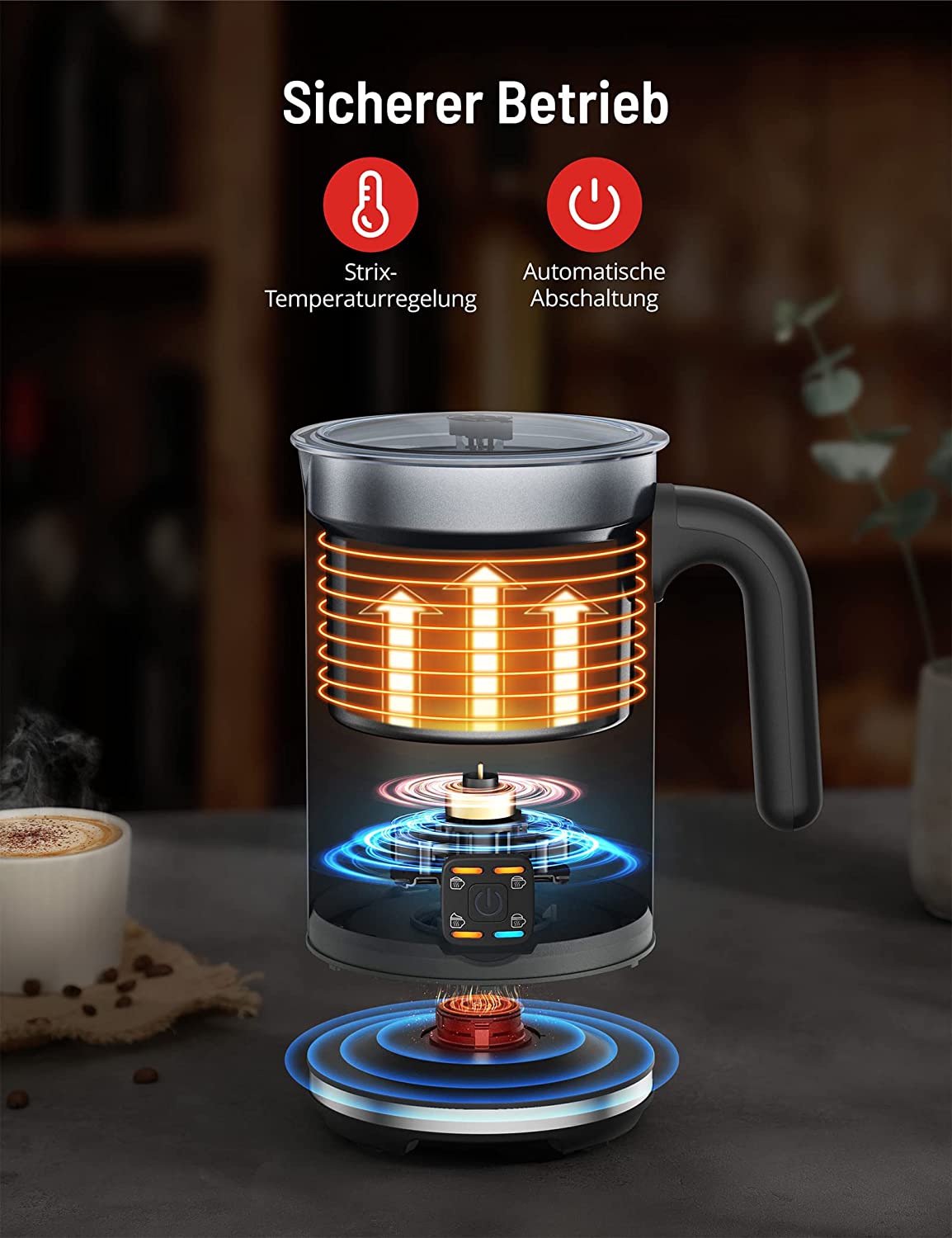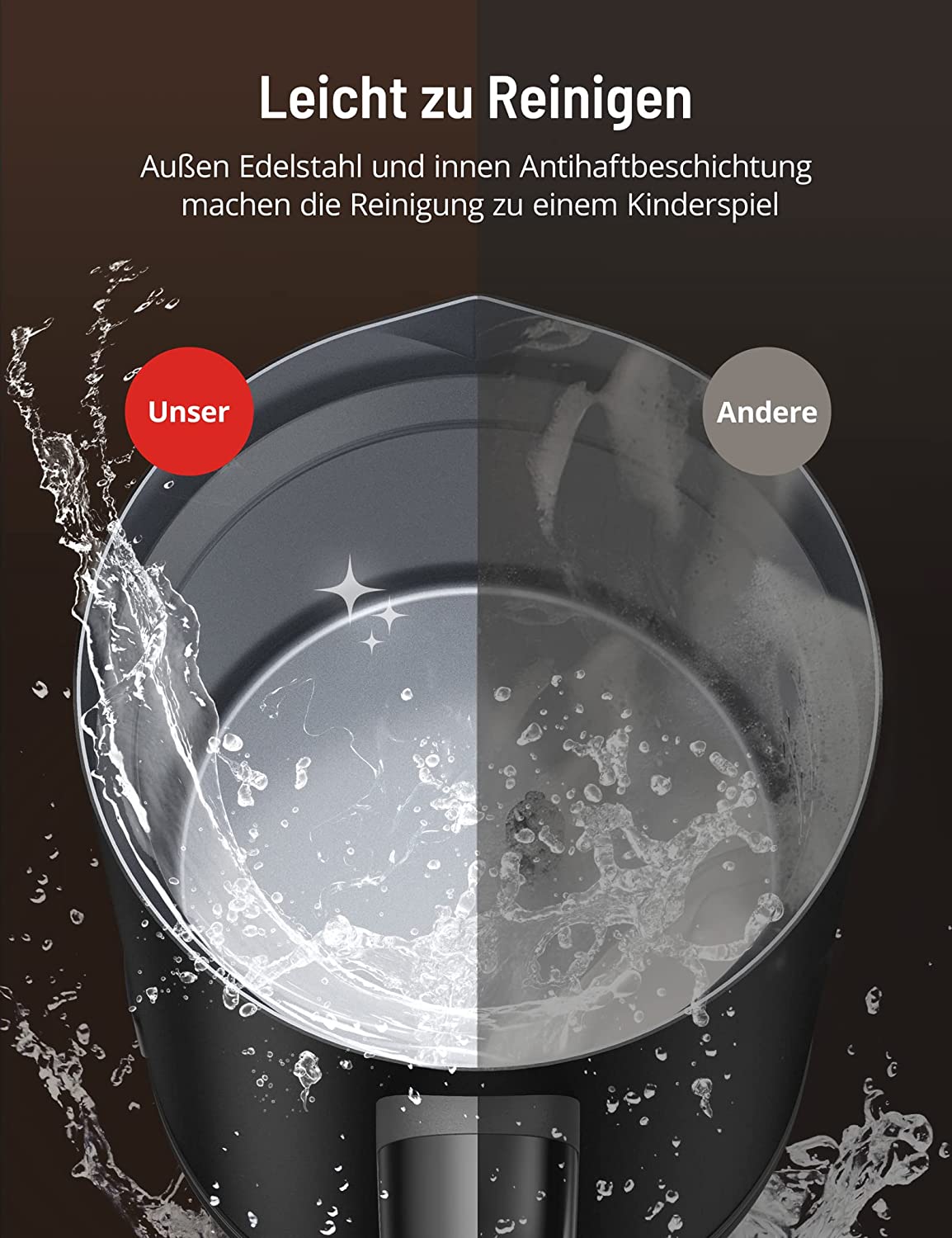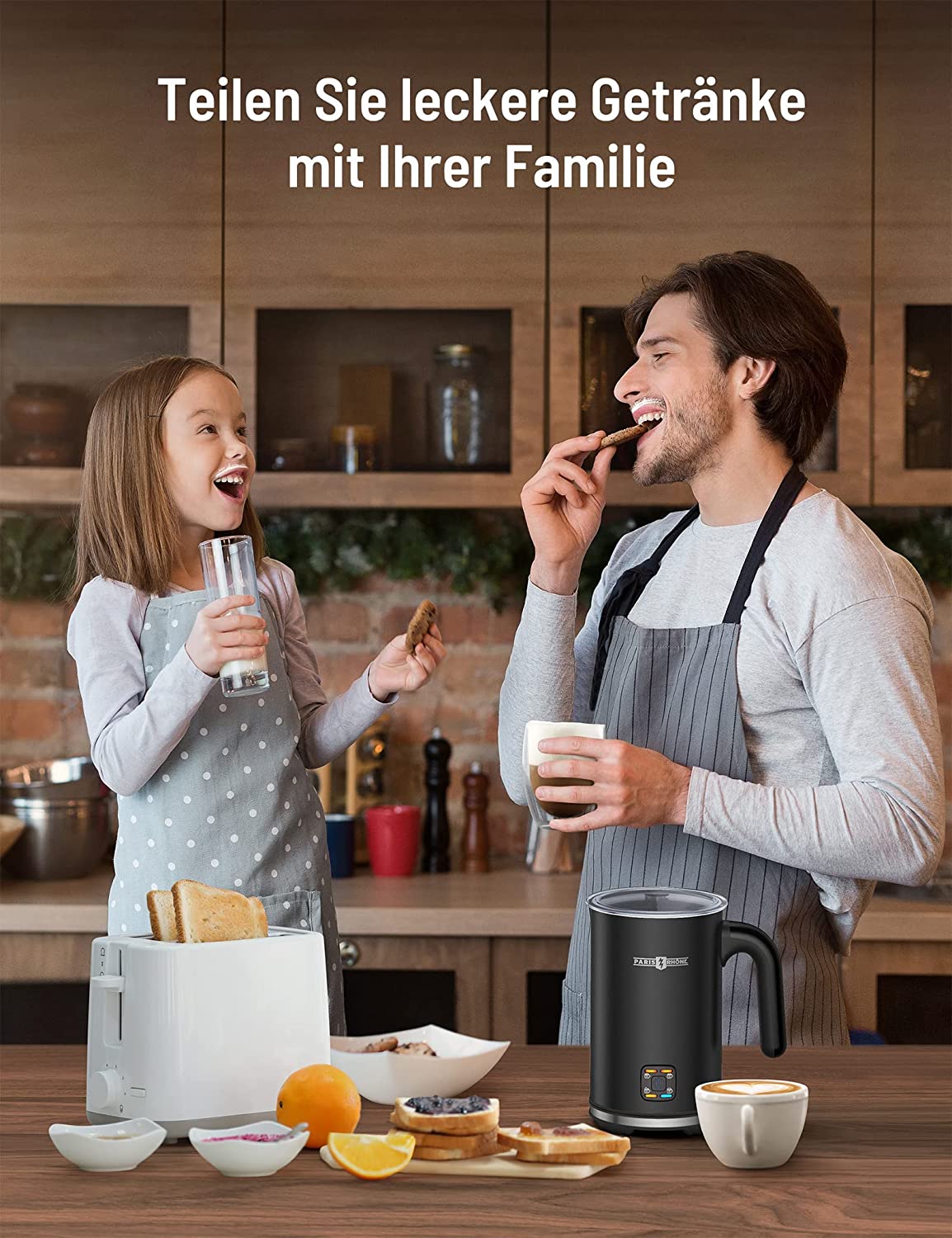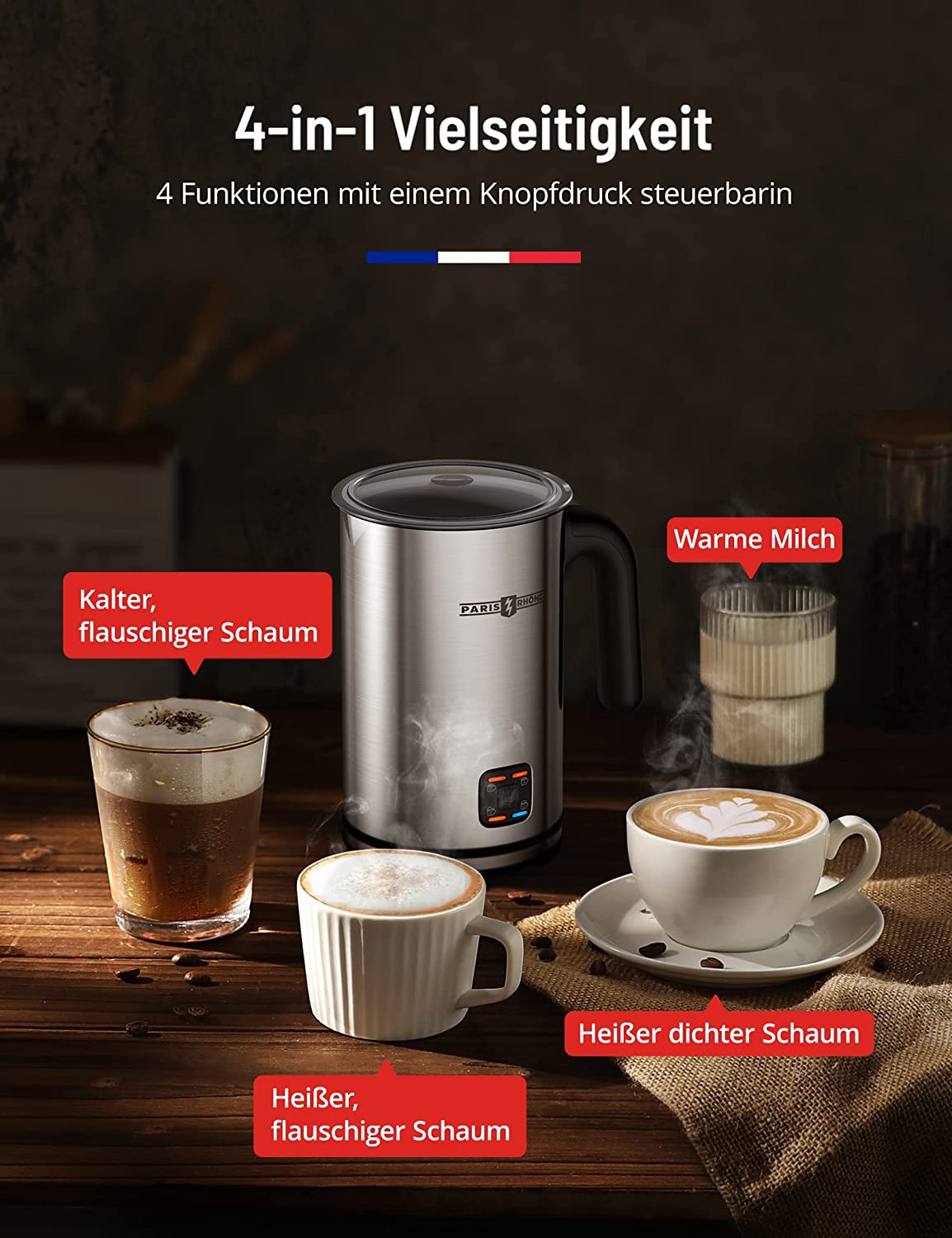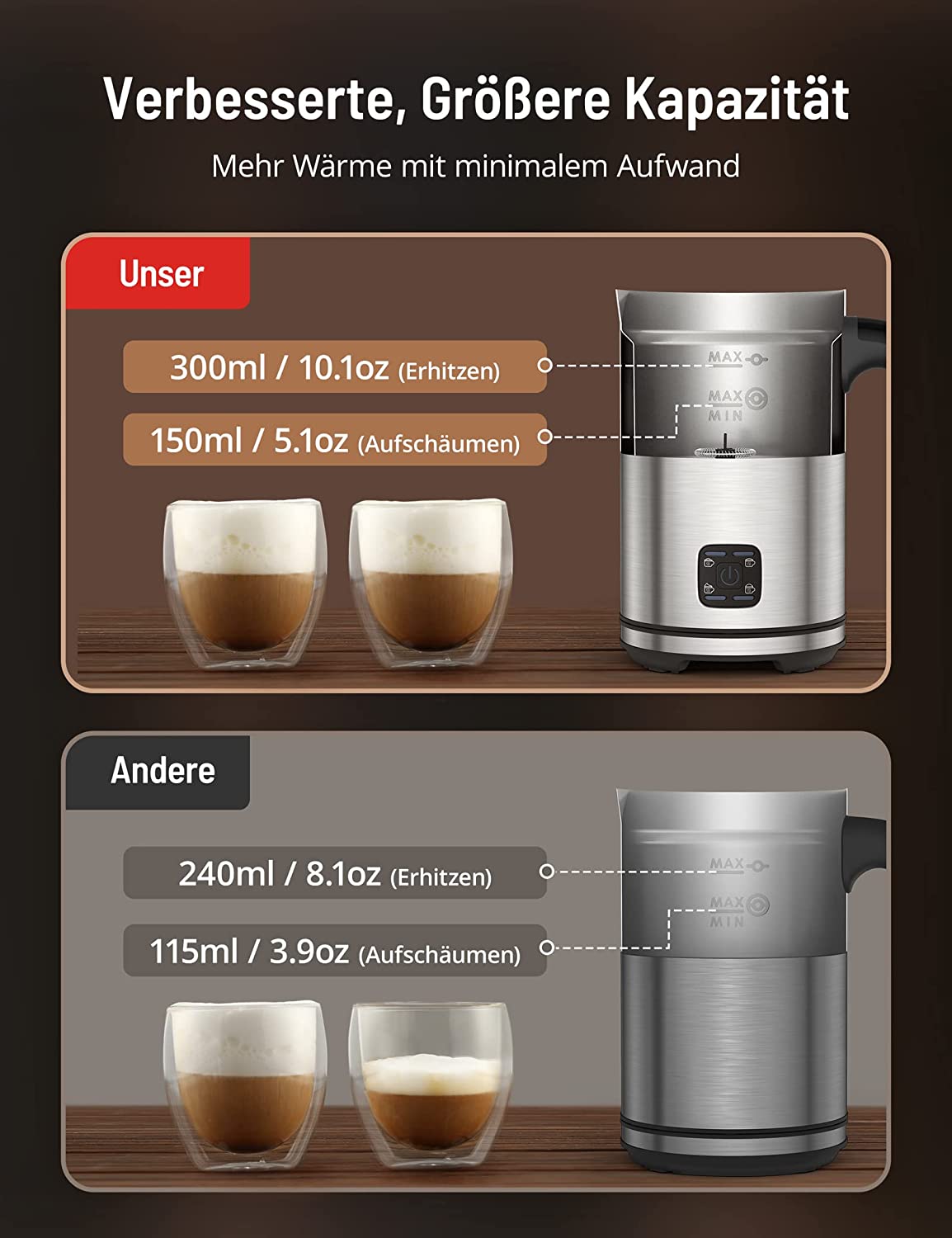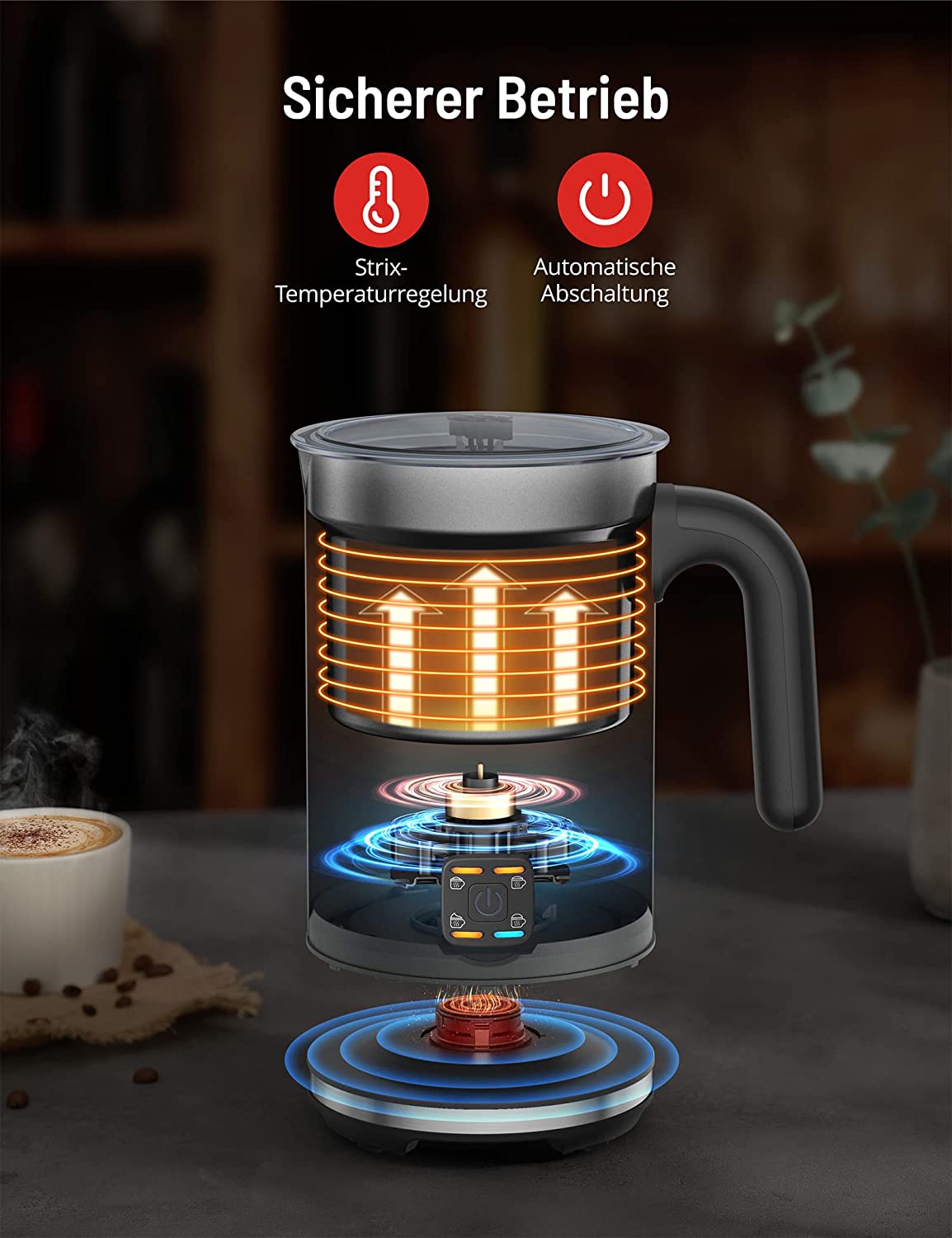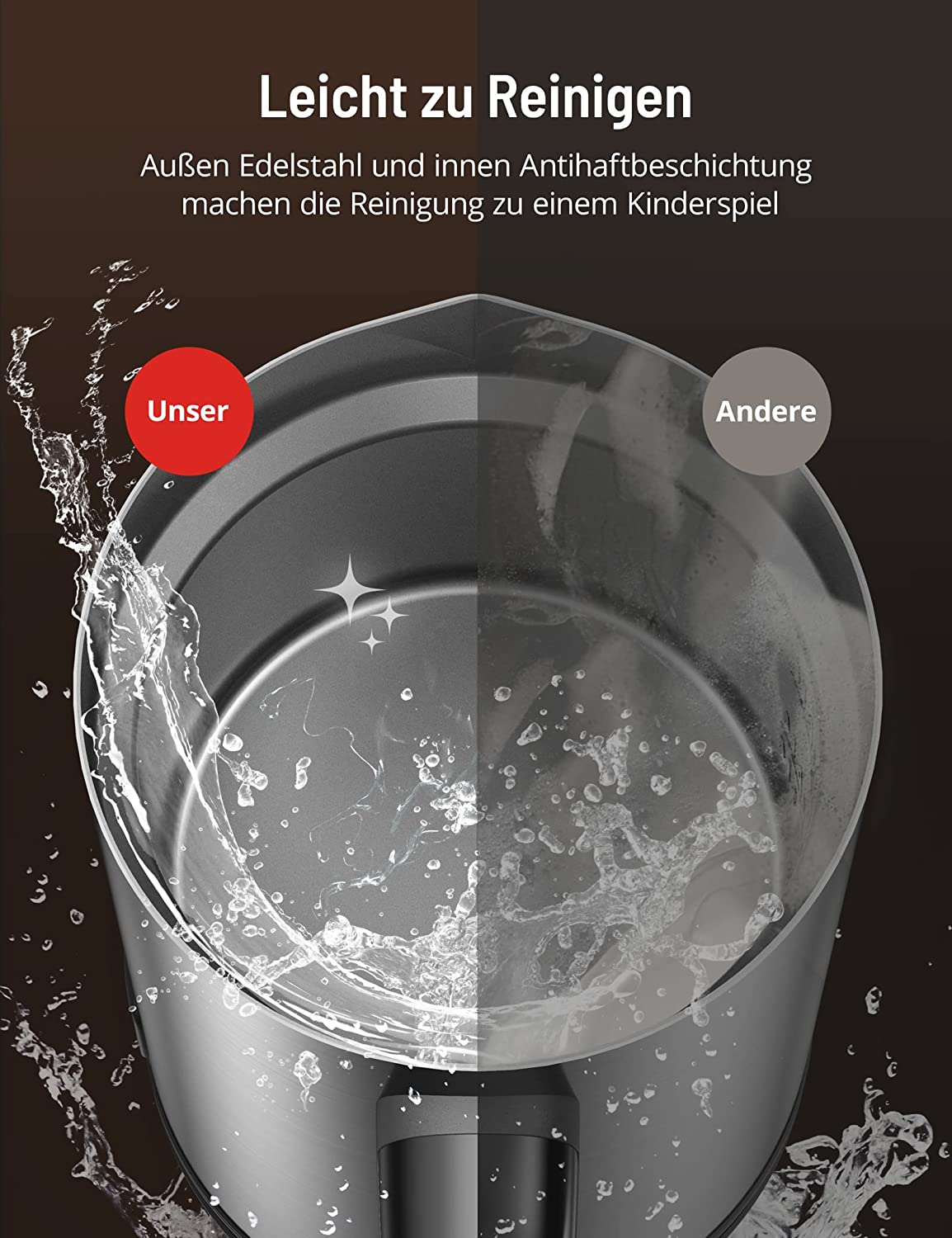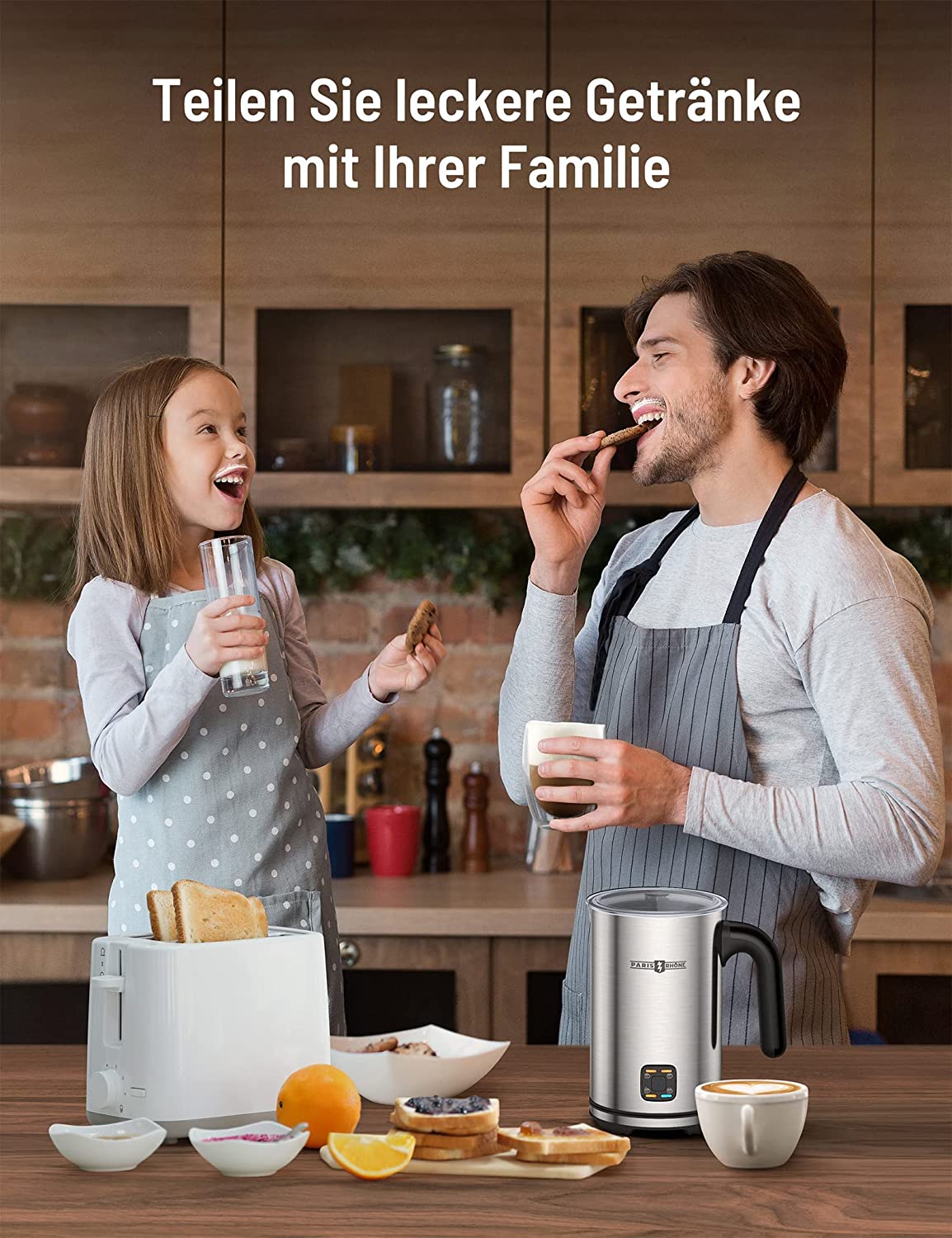 Milk frother Electric milk frother 300ml, 4-in-1 automatic milk container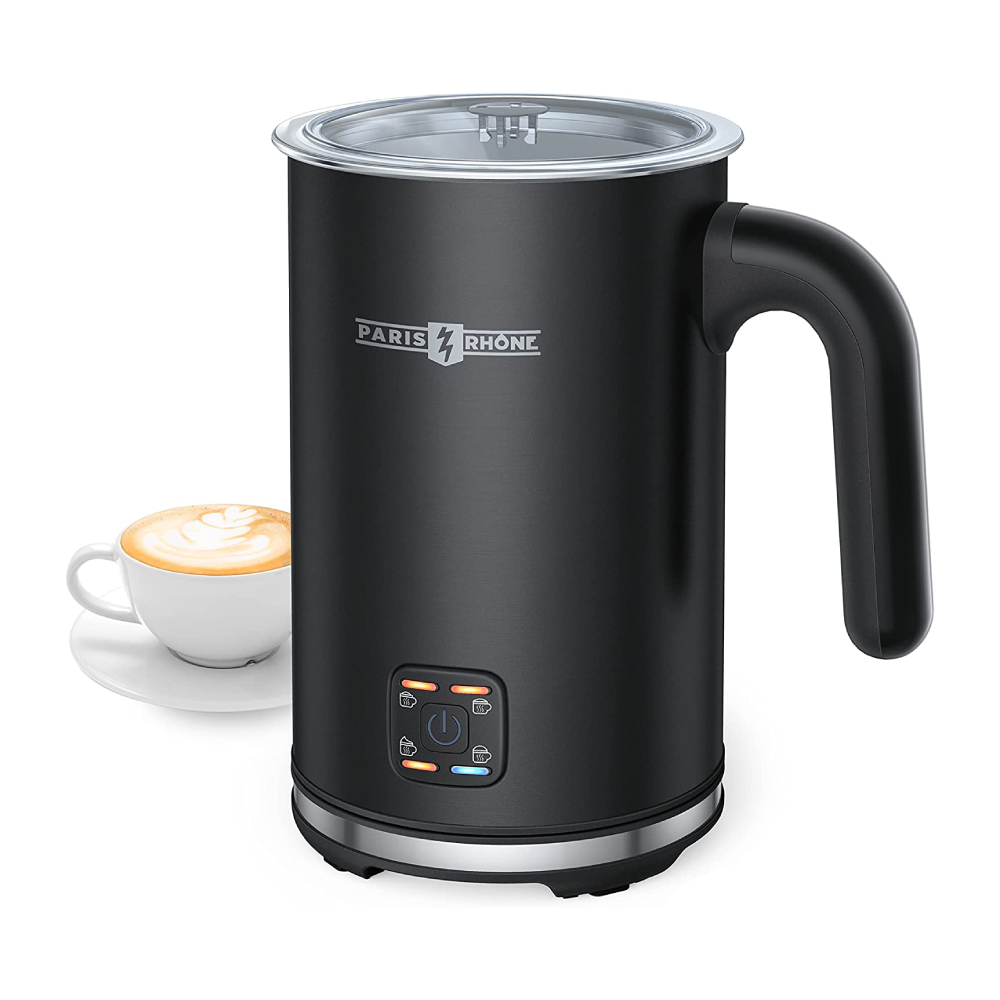 PARIS RHÔNE
Machen Sie Ihr Morgengebräu luxuriös
Dieser multifunktionale elektrische 4-in-1-Milchaufschäumer von Paris Rhône wärmt nicht nur bis zu 10,1 Unzen Milch auf einmal, sondern erzeugt auch schnell reichhaltigen und cremigen heißen oder kalten Milchschaum für Latte, Cappuccino, Macchiato, Eismokka und mehr . Beginnen Sie Ihren Tag mit einer Tasse Ihres Lieblingsgetränks in Café-Qualität!
Hervorgehoben
4-in-1-Multifunktion
Schnelles und einwandfreies Aufschäumen
Verbesserte größere Kapazität
Sicher und praktisch in der Anwendung, einfach zu reinigen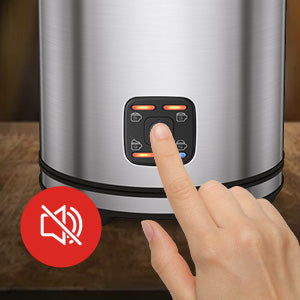 Leiser Betrieb & LED-Anzeigen
Erhitzen Sie ganz einfach Milch oder erzeugen Sie perfekten Milchschaum auf Knopfdruck. Die vier LED-Anzeigen zeigen Ihnen deutlich die verschiedenen Betriebszustände an.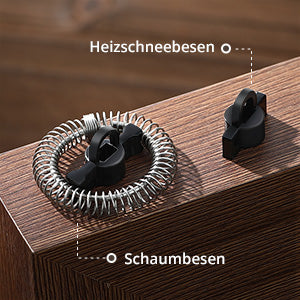 2 Schneebesen im Lieferumfang enthalten
Der vielseitige elektrische Milchaufschäumer umfasst einen Aufschäumbesen und einen Heizbesen für problemloses Aufschäumen und Erhitzen.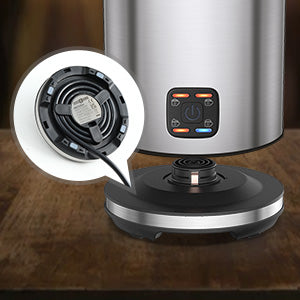 Kompakte Kabelaufbewahrung
Das Netzkabel des elektrischen Milchaufschäumers kann zur bequemen Aufbewahrung ordentlich unter dem Sockel verpackt werden.
This product has no reviews yet.
FAQ
Use this text to share information about your product or shipping policies.
I bought a new paris rhone milk frother on 23 ma 2022 (less than 3 months ago). today it stopped working. how do I get it replaced? thank you.

Please contact customer service for this issue. They will help you with this issue.
Is it necessary to buy a 300ml milk frother? Most of the market is 240ml

No. Sometimes you just use the minimum anyway.
Does it have an automatic shut off when frothing is done?

Yes, it automatically shuts off.
Can you adjust the amount of milk if you don't want to fill up completely? I'm confused since the whisk is in the lid.

The whisk is in the bottom of the pitcher. There is some type of extra clip in the lid.
How quickly can it warm up milk, without froth?
Is there a warranty on this electric milk frother?

Yes, it has a 12-month warranty.
Does this heat and froth at the same?

It can heat and froth at the same time. The 4-in-1 electric milk frother quietly heats milk and creates hot dense foam, hot fluffy foam, or cold fluffy foam.
Does this machine automatically turn off when complete or do you need to stand by and do it yourself
Our customer support is available Monday to Friday: 8am-8:30pm.
Average answer time: 24h