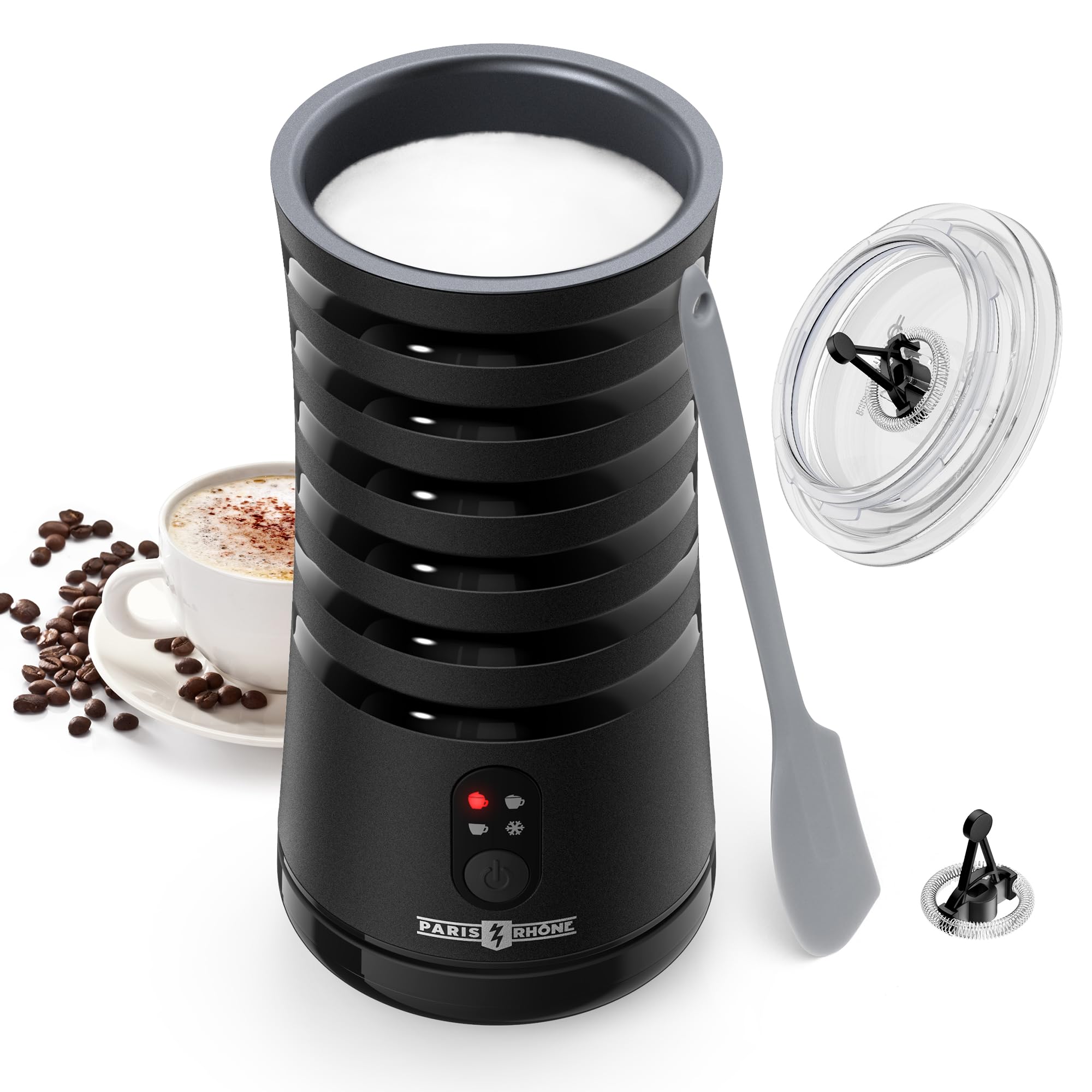 PARIS RHÔNE
Warum sollten Sie sich für den Paris Rhône 4-in-1-Milchaufschäumer entscheiden?
Der elektrische Milchaufschäumer hat eine außergewöhnliche Form, die vom Pariser Eiffelturm inspiriert ist und Ihnen nicht nur ein visuelles Vergnügen bereitet, sondern auch das Nutzungserlebnis deutlich verbessert; Das ergonomische Design sorgt dafür, dass es rutschfest und leicht zu halten ist
Hervorgehoben
Dank der schnellen und hocheffizienten Zubereitung können Sie in 2 Minuten eine Tasse Kaffee mit starkem Aroma zubereiten.
Mit dem Temperaturregler lässt sich die Temperatur sicher und genau regeln, und die Maschine schaltet sich nach der Zubereitung des Getränks automatisch ab.
Dieser Milchaufschäumer ist tragbar und leise. Es arbeitet reibungslos und geräuschlos und kann mit seinem kompakten Gehäuse im Wohnzimmer und in der Küche verwendet werden.
Die Kapazität reicht aus, um den Kaffeebedarf von 1-2 Portionen zu decken.
Das Produkt lässt sich leicht reinigen, indem man es mit Wasser abspült.
Das Produkt wird mit zwei Spiralen und einer Reinigungsbürste geliefert.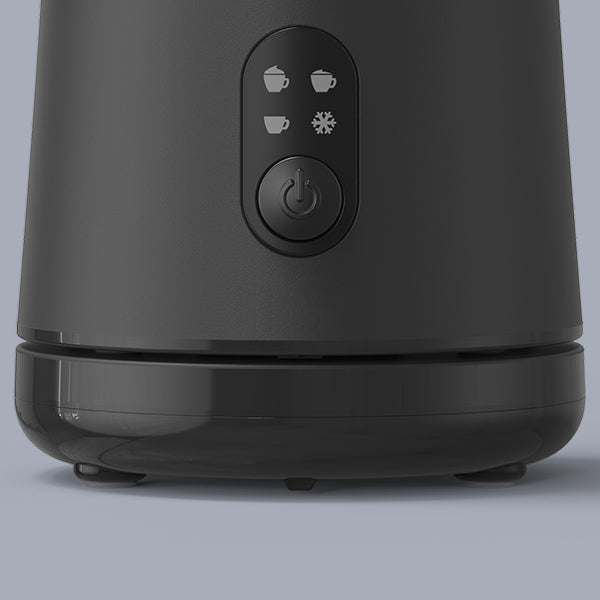 Ein-Knopf-Steuerung
Der Milchaufschäumer kann steifen, cremigen Schaum, luftigen Schaum, heiße Milch und kalten Schaum mit nur einem Tastendruck erzeugen.
Elegantes Design
Kaffeeaufschäumer mit sanft konturiertem Design ist perfekt für komfortables und stabilen Halt und auslaufsicheres Ausgießen.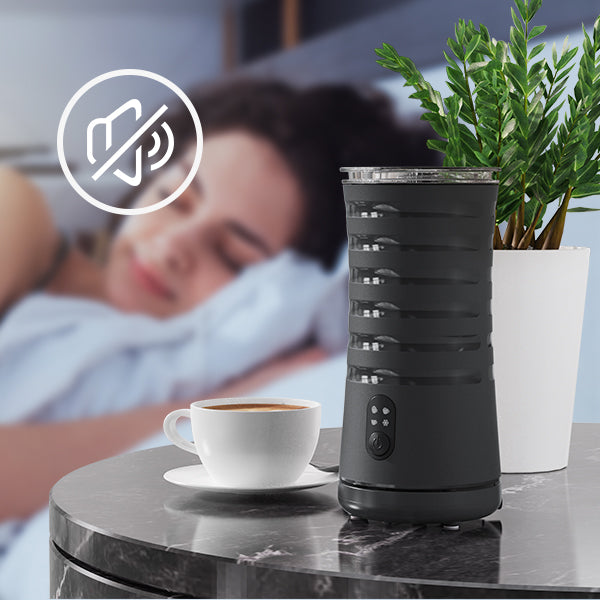 Leiser Betrieb
Arbeitet schnell, aber leise und stört Sie nicht beim Arbeiten, Lernen oder Schlafen.
Schnelles Aufschäumen, heiß und kalt optional
Der Milchaufschäumer bietet heiße und kalte Milchschaum-Modus, können Sie wählen, dicken Milchschaum und flauschigen Milchschaum, köstlichen Kaffee
Milch erhitzen
Nehmen Sie die Feder am Schneebesen heraus, sie ist ein beheizter Rotor, der im Heißmilchmodus die Milch schnell erhitzen kann.
Integrierte Speicherung
Der Schneebesen wird im Deckel aufbewahrt, damit er nicht verloren geht, und er ist mit einem austauschbaren Rotor ausgestattet, der die Verwendung erleichtert.
This product has no reviews yet.
FAQ
Use this text to share information about your product or shipping policies.
Can it make multiple cups one after another?

Yes, you can make a new glass of milk after you have made a glass of froth. However, you need to wait until the previous one has been made before adding more milk to make the next one, not adding more than one cup portion of milk at a time.
What is the wattage of the heater?
How do you keep the frother clean from milk burning on the bottom?

When cleaning, you can remove the whisk from the milk frother and use the small brush included to clean the inside of the pot.
What is the milk frother functions?

This milk frother enables you to whip the milk into hot dense foam, hot airy foam, or cold froth, and DIY your velvety-smooth coffee; it can also heat the milk up to 70°C / 158°F.
What temp does this heat the milk to?
How do i know tje milk is finished heating? How long do i leave it

The frother beeps when it's done with any function. If you start it when you begin steeping your tea bag (if you're having tea), it's usually done by 3 minutes or so. So I can warm the milk and just about pour it right into my prepared 1/2 mug of tea. You don't have to let it sit before pouring.
What am i doing wrong? froth is spilling out of lid while it's frothing. made sure lid was on and held down. not over filled either.

The milk frother has two max indicator lines, the top one is the capacity indicator line for heated milk and the bottom one is the capacity indicator line for the milk frothing function, please make sure the amount of milk poured is lower than the bottom frothing function indicator line, if the problem still exists, could you please kindly contact our support team? Here is our support email: support@parisrhone.com. Please kindly attach your order number and issue.We are looking forward to your early reply.
Is this 220v does it work in Europe ?

I doubt it.You most likely will need a converter andplug for that countries voltage whichcan be purchased on Amazon or at a localluggage shop.
Our customer support is available Monday to Friday: 8am-8:30pm.
Average answer time: 24h